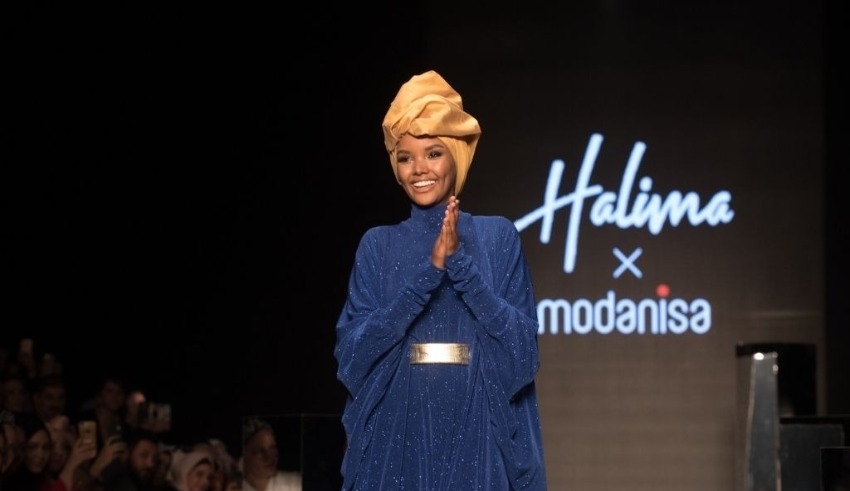 US: A profession that lacks "basic human respect," says Halima Aden—the first supermodel to model in a headscarf and appear for photos wearing a burkini—has forced her to abandon her lucrative contracts.
It was a matter of protecting her self-worth and well-being in a fast and loose sector that gradually clashed with her Muslim principles for the Somali-American born in a refugee camp in Kenya.
According to an interview with AFP she gave in Istanbul, "Since I was tiny, this motto – 'don't change yourself, change the game – has gotten me through so much in life."
That is exactly what she did when she decided to quit, she claimed. As a result, "I'm very, very proud of myself."
When Aden announced her resignation in November, fashionistas and Muslim social media influencers were stunned.
Her birthday is Sunday, and she made history by becoming the first contestant to wear a headscarf and burkini—the kind of swimwear that has caused controversy on various European beaches—in the 2016 Minnesota state beauty pageant.
For the 2019 Sports Illustrated Swimsuit Issue, she wore the same bikinis she wore in 2018.
Aden, on the other hand, felt increasingly hemmed in, even if only metaphorically.
"I always had a box, a quiet spot to change in, but I was often the only one who had it."
It was an eye-opening experience for her to observe her "fellow young women undressing and changing in public in front of media personalities, chefs and staff, designers and assistants," she said.
Related Posts
"It was startling to me," she explained. "It's impossible for me to work in an industry that doesn't show basic respect for others."
After announcing that she will no longer work in the fashion industry, Aden sounded emancipated. Instead, she's training to be a fashion designer.
"Wow, this is the greatest sense of relief I've felt since I began working in the field in 2016. Poison was literally kept in!" On Instagram, she made the comment.
She thought that several brands were making fun of her for having a different set of values than most other supermodels.
An American Eagle advertising in 2017 featured a woman using pants as a hijab.
"This isn't even my style?" she screamed on Instagram at the time.
"I reached a point where I couldn't recognize my hijab in the way I would normally wear it," Aden said.
Aden seemed more at ease in Istanbul, where she was attending an event organized by Modanisa, her new home, surrounded by Middle Eastern fashionistas.
As one of the largest names in modest fashion, with a 2019 market capitalization of US$277 billion (S$388 billion), she will design collections exclusively for the Turkish internet business.
An consultancy business that focuses on emerging Muslim markets estimates that it now accounts for more than a tenth of the $2,2 trillion global fashion sector and expects that number to rise.
In recent years, modest fashion shows have been held in cities around the world, including Moscow, Riyadh, and London.
Aden revels in the kaleidoscope of cultures on the streets of Iran, Saudi Arabia, and Turkey.
Women who don't wear the hijab live side by side with women who do, which is one of the things she finds most endearing about Turkey, particularly Istanbul.
Models like Aden have helped to catapult the business forward in the last ten years.
Confident that modest dress can weather catastrophes like the coronavirus pandemic and changing fads, Aden speaks softly but cheerfully.
"It's the oldest fashion staple, it's been around for hundreds of years, and it will continue to be around for hundreds of years," she remarked.
There is nothing in Islam that prohibits a person from becoming fashionable, according to this scholar.
There is a growing number of high-end fashion brands catering to modest women, such as DKNY and Dolce & Gabbana, who have already taken notice.
As a result of Aden's criticism, "a lot of tokenism, especially in the fashion sector, where they want our money but they don't want to assist us in the difficulties that we are dealing with," he said.
She remarked, "I believe fashion needs to do a better job."