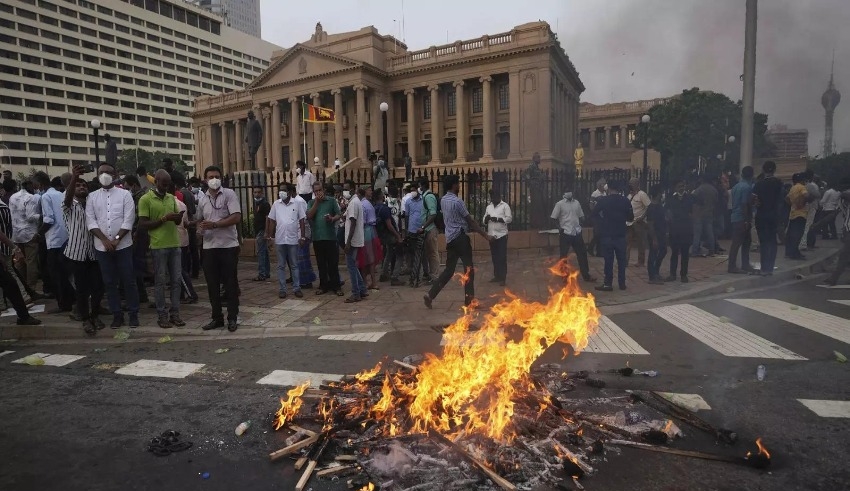 Last updated on August 10th, 2022 at 12:30 pm
SRI LANKA: As he departed the country to avoid a popular uprising against his government, Sri Lanka's ousted president declared he took "all conceivable means" to avert the island nation's economic disaster.
A vote in Parliament on Friday approved the resignation of Gotabhaye Rajapakse from office (Jul 15). After hundreds of thousands of anti-government protestors descended on Colombo a week ago and occupied his official residence and offices, he flew to the Maldives and then to Singapore.
In the wake of the arrival of a cargo of fuel, Sri Lanka's parliament convened on Saturday to begin the process of electing a new president.
Sri Lankan parliament secretary general Dhammika Dasanayake read out Rajapaksa's resignation letter in public for the first time.
After the COVID-19 outbreak, which caused a significant drop in tourist arrivals and remittances from foreign employees, Rajapaksa blamed Sri Lanka's current financial predicament on years of economic mismanagement.
"For me, including urging lawmakers to create a unity or cross-party administration was the only way to address this problem," the letter stated.
Members of Parliament will convene again on Tuesday to begin the process of selecting a new president. On Wednesday, the country's leaders will be elected in a poll.
Also Read: Top 10 best presidents of the Philippines 2022
In the interim, Rajapaksa's ally and lone parliamentarian, Prime Minister Ranil Wickremesinghe, has been sworn in as acting president.
Related Posts
Protesters want Wickremesinghe out and if he is elected, there could be further turmoil if he does. He is one of the main candidates to take on the post full-time.
Sajith Premadasa is the opposition candidate for president. Dullas Alahapperuma, a senior ruling party lawmaker, is a possible dark horse.
It was on Saturday that Wickremesinghe announced an urgent relief package to help those in Sri Lanka who are struggling because of the country's economic woes. Aside from that, he promised to engage in discussion with demonstrators about ways to reduce corruption in government.
It is expected that Sri Lanka's economy will shrink by more than 6% this year because of political and societal turbulence, according to the country's central bank governor, who spoke to The Wall Street Journal.
The entrance route to parliament was guarded on Saturday by about a hundred police and security officials armed with assault weapons and a water cannon to prevent any unrest. There were no evidence of any demonstrators as columns of security guards patrolled another access road to parliament.
There had been simmering protests against Sri Lanka's economic crisis in the streets for months before they erupted on July 9, with protestors accusing the Rajapaksa family and allies of causing runaway inflation, a lack of basic necessities, and widespread corruption.
Basil Rajapaska, Gotabaya Rajapaksa's brother, resigned as Sri Lanka's finance minister in April and resigned from parliament in June as street protests grew.
In this island nation of 22 million people, days-long fuel lines have become the norm, foreign exchange reserves are nearly empty, and headline inflation was 54.6% last month.
Energy Minister Kanchana Wijesekera announced on Saturday that Sri Lanka had received the first of three shipments of fuel. After a long wait of almost three weeks, these are the first cargoes to arrive in the country.
A second delivery of diesel will arrive on Saturday, and a delivery of gasoline will arrive on Tuesday.
The minister tweeted, "Payments completed for all three."