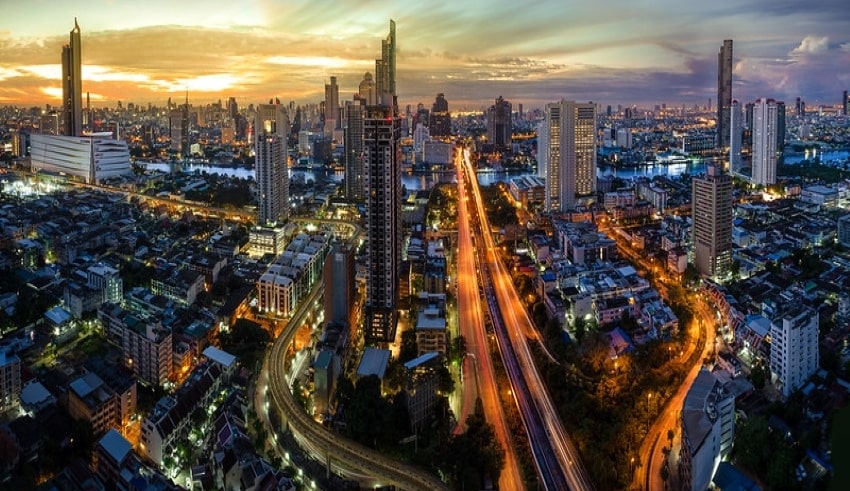 (C) Flickr, Jakapan Chumchuen
Last updated on January 17th, 2021 at 02:02 am
Thailand's latest round of regulations aimed at containing a fresh outbreak of coronavirus infections is expected to derail the gradual rebound of the economy from its recession in 2020.
Prime Minister Prayut Chan-o-cha encouraged the people to remain at home and postpone travel after the authorities closed a number of venues in Bangkok and some other provinces this month – from schools to bars – and shortened trading hours.
#COVID19 situation in #Thailand as of 6 January 2021

😷New Confirmed Cases: 365
🦠Cumulative number of cases: 9,331 (+365)
👍🏻Recoveries: 4,418 (+21)
📣Fatalities: 66 (+1) pic.twitter.com/Hl1tH0fx0C

— PR Thai Government (@prdthailand) January 6, 2021
Looking back on mid-2020, Thailand had mostly contained the outbreak, but a cluster linked to migrant workers contributed to outbreaks in more than half of its provinces in December. Economists worry that the new epidemic will harm retail spending and deliver another blow to the main tourism sector in Thailand, both central to the 1.9 trillion baht government's stimulus efforts to reignite expansion.
In view of this, the Asian financial crisis in the second quarter of 2020, South-East Asia's second-largest economy has experienced its greatest annual recession, hit hard by a ban on international tourists, though coronavirus curbs have also affected spending and investment. While the loosening of controls gave way to a recovery in the third quarter, economists worry that fresh curbs would add more misery to an economy that is projected to plunge by 6 to 7% in 2020, which will be the greatest recession in more than two decades.
Meanwhile, The Bank of Thailand cut its growth outlook for 2021 to 3.2 percent in December from 3.6 percent and several analysts followed suit. In view of this, The economy is estimated to have slumped by 6.6 per cent in 2020.
In fact, CIMB Thai Bank reduced its growth estimate for 2021 to 2.6 percent from 4.1 percent, while economist Thammarat Kittisiripat of the Tisco Group said he would slash his prediction for this year to below 3 percent from 3.4 percent earlier. One main worry is that the epidemic could derail government attempts to boost the tourism industry in Thailand, just as in October the country began reopening to international visitors.
Previously, Thailand received nearly 40 million foreign visitors, whose spending that year accounted for 11.4% of the gross domestic product. The government expects Thailand to be visited this year by only five million international visitors, down from 6.7 million in 2020.
Morever, the company workers have had to work four days a week with 20 percent salary cuts since July for the business to cope. Thailand's car sector, which exports half of the car it makes, is also worried that new constraints would affect demand at a time when overseas sales are already affected by a strong baht. After April, the baht has risen 10.9 per cent against the dollar.