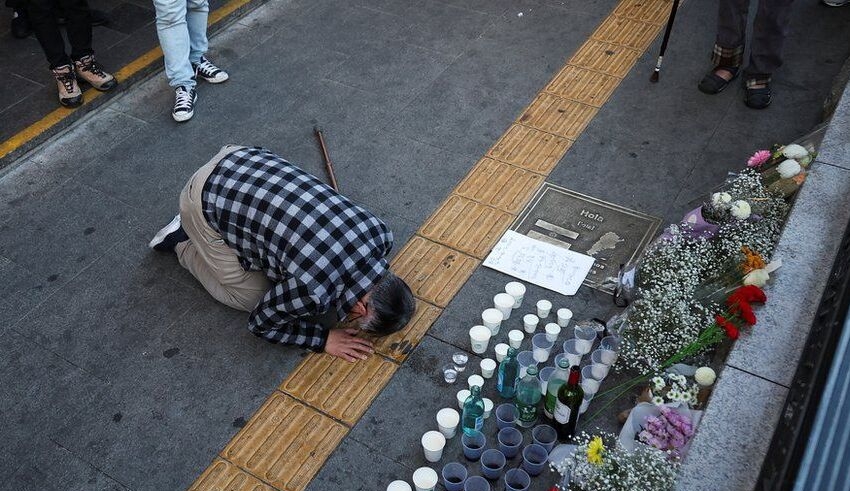 The BBC investigates how the disaster unfolded when more than 150 people perished in a fatal crush in Seoul on Saturday night.
By early Saturday evening, tens of thousands of mostly young people had gathered on Itaewon in the heart of the South Korean city, a lively party district whose maze-like alleyways are lined with clubs and eateries.
After two years of stringent Covid prohibitions in the country, some reports claim that 100,000 people gathered on the area to celebrate Halloween, eager to party once more.
32-year-old Nuhyil Ahammed was among the audience. The Indian IT professional resides close and has attended Itaewon Halloween parties for five consecutive years.
Last year's festivities were raucous but well-controlled, with police prohibiting people from entering crowded places. This year was completely different, he stated.
"It was insane," he declared to the BBC. "At 5 p.m., there were too many individuals on the streets. So I wondered, what will it be like in seven or eight years?"
At this time, many were posting remarks on social media stating that the district's streets were so congested that they felt uncomfortable.
Mr. Ahammed and a group of friends spent the evening in Itaewon, loitering in a slender, sloping alley off the district's main street, which was destined to become the epicenter of the catastrophe.
He stated, "We always go to this alley. For whatever reason, there are always decent bars and costumed individuals."
By 11 p.m., it was evident that something was amiss, and a concerned Mr. Ahammed found himself surrounded by a massive gathering of individuals.
"People began pushing from behind like a wave; there was nothing you could do," he claimed. Even if you were standing stationary, you were being pushed from behind and in front.
Mr. Ahammed fell to the ground but was able to ascend a flight of stairs on the side of the alley to escape the crowd.
At approximately 22:20 local time (13:20 BST), the situation became dire. A lot of persons on the slope lost their footing, resulting in a big pileup. Crowds pressing from both sides of the tiny street prevented anyone from leaving.
The 32-year-old stated, "People were choking, shouting, being pressed, and falling; there were simply too many people."
Keep Reading
"I was standing on the stairway, observing everything that was transpiring and individuals taking their last breaths. I was helpless as I watched those individuals suffocate."
Ana, a 24-year-old from Spain, and Melissa, a 19-year-old from Germany, were also in the area. The two were in a bar and attempting to leave at 23:00 local time (14:00 BST) when they observed ambulances entering an alley and police urging patrons to make room for dead corpses and the injured.
"There were so many people that normal folks had to perform CPR. So everyone began to provide assistance," Ana stated to BBC.
She stated that two friends who were trained in CPR had gone to assist, but several individuals had died in their care.
Ana then proceeded to assist as she listened to instructions.
"They instructed me on how to position their heads and mouths, among other things. I attempted to assist, but they were both already deceased. The majority of the individuals they brought in to perform CPR were already not breathing, so they were helpless."
"We were helpless, and that was the greatest trauma," she said.
Videos from the scene show scores of people performing CPR on street-lined dead. A BBC correspondent on the scene reported seeing a number of ambulances, tens of thousands of individuals, and numerous bodies covered in blue blankets. It was difficult for ambulances to navigate the masses of people.
As is typical in such rapidly unfolding tragedies, news of what had transpired was trickling in piecemeal.
Initial reports indicated that perhaps fifty people had experienced cardiac arrests, a frequent cause of death during a crush, but it was evident from the gruesome images of body bags filling the streets that this was a significant tragedy.
At 02:30 local time, the first confirmed death toll was announced (17:30 BST). According to officials, 59 people were killed and 150 were injured. One hour later, the death toll had risen to 120, with 100 injured, and continued to rise throughout the night, eventually topping 150.
Mr. Ahammed stated that even hours after the incident, people in the vicinity were still celebrating, as music could still be heard emanating from local bars and clubs. It is unclear whether these establishments and their clientele were aware of the gravity of the situation.
President Yoon Suk-yeol of South Korea conducted an emergency meeting and announced an investigation into the cause of the crush within hours of the tragedy occurring. On Sunday morning, he declared a national period of mourning.
"My heart is heavy and I am struggling to cope with my loss," he added, adding that he felt "responsible for the lives and safety of others."
On Sunday afternoons, Itaewon is often bustling with activity, but the day following the disaster, many businesses, restaurants, and cafés were closed, and the area's main thoroughfare was sealed off. A neighborhood resident told the BBC that the sight of corpse bags on the street startled her.
As the nation grapples with how the tragedy transpired, the focus will undoubtedly go to safety regulations and crowd control measures, as people question whether more could have been done to prevent it.