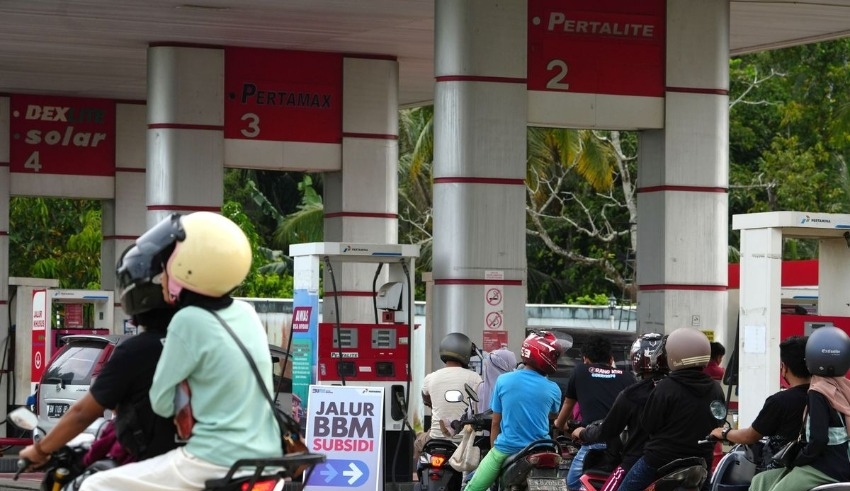 In the city of Banjarmasin, South Kalimantan, 41-year-old Zainal Ridho is the proprietor of a car rental business.
Previously, the day charge for his Toyota Innova was 800,000 rupiah (US$54), which included the price of subsidized Pertalite fuel.
In response to the common expectation that the government will soon increase the price of subsidized fuel, he hiked the price to 900,000 rupiah per day last week.
He replied, "I am going to have to explain to the clients why I have changed the price of the rental." According to him, although he still has customers who are loyal to him, some of them try to negotiate a better deal in order to receive a lesser price.
Furthermore, his twenty employees have asked for a raise in pay in order to compensate for the rising costs of living they are experiencing.
In response to growing costs across the globe, the government stated over the weekend that it will increase the rates of subsidized fuel by almost thirty percent.
The price of subsidized diesel increased from 5,150 rupiah per liter to 6,800 rupiah during the course of a year. The price of subsidized gasoline has increased to 10,000 rupiah per litre, an increase from the previous price of 7,650 rupiah.
According to President Joko Widodo, this step is vital to cut spending on increasing energy subsidies, and he made this statement last Saturday (Sep 3).
According to him, the national budget for energy subsidies has ballooned to 502.4 trillion rupiah, which is an increase over the initial 152.5 trillion rupiah that was projected for the previous year.
The increase in the price of fuel is expected to push current inflation of 4.69 percent up to approximately 6.6%, according to the government's projections.
The price of 92-octane gasoline was raised in addition to the price increases that were implemented for diesel and 90-octane gasoline, which is referred to as Pertalite in the local community.
It was known as Pertamax, and its price increased to 14,500 rupiah per liter from 12,500 rupiah per liter. The term "Pertamax" is typically used by owners of vehicles that have more recent models and larger engines.
After the president made his pronouncement, the increase in the price of petrol went into effect exactly one hour later.
The government has said that they will provide about 20 million low-income households with direct cash transfers in order to cushion the shock.
During the televised statement, Mr. Widodo stated that the government would give a total of 150,000 rupiah to each of the 20.65 million low-income families beginning in September and continuing for the following four months.
In spite of these efforts, there were isolated incidents of protests in a number of locations around Indonesia this week.
Thousands of people gathered in Jakarta to demonstrate against the price increase. Protests of a similar nature took place in a number of other cities, including Surabaya, Makassar, and Kendari.
As a result of the increase in the price of fuel, the Ministry of Transportation announced on Wednesday that the fares for app-based motorbike taxis, which are a common form of daily transportation, will also increase.
Keep Reading
Beginning after this coming weekend, there will be a 6–13.3 percent rise in the cost of traveling one kilometer further.
Micro, small, and medium businesses are vital to Indonesia's economy, which is a lower-middle income economy with a gross national income per capita of $4,140 in 2017. Indonesia's economy is dependent on its MSMEs (MSMEs).
Almost all of these are considered to be micro-businesses, which are extremely vulnerable to even relatively slight alterations in economic policy.
Even though it is still early to observe the full impact of the increase in fuel prices, businesses all throughout Indonesia are already preparing for how it would affect them in the long run.
The increase in the cost of fuel is starting to be felt negatively by a great number of smaller businesses.
According to Arifin, the proprietor of a car rental firm in Timika, Central Papua, who spoke with CNA, "Usually, I buy Pertalite for 250,000 rupiah each day but now I have to spend 350,000 rupiah."
However, if I were to raise the rental rates, the clients would complain that it was too expensive.
As a result, Arifin, who only goes by one name, has made the decision to refrain from raising rates for the time being.
"In order to meet our day-to-day obligations, my family and I are going to have to buckle down. And for the car rental rates, we use the old rates so that my customers don't switch to other car rentals," he continued.
Rita Suryaningsih, a businesswoman based in Makassar, South Sulawesi, mentioned that the recent increase in the price of fuel has had an impact on the expenditures associated with her distribution.
She is the only proprietor of a microbusiness that specializes in the production of traditional ginger drinks, which she then sells to merchants via land-based distribution.
Our delivery person often rides a motorcycle, and his daily fuel costs used to amount to 35,000 rupiah. "However, the price has now gone up to 50,000 rupiah," she stated.
She anticipates that her company will be able to weather the storm in the next months despite the fact that it has a monthly profit of 10 million rupiah and that she is responsible for the welfare of four employees.
Even if there is an increase in the cost of living, we should still be able to make it.
Paniem, who owns a laundry service in Jakarta, is particularly concerned about the rising expense of transportation.
"My daughter is in charge of delivering the cleaned clothes to our clients. Therefore, there is an effect on our company, but what can we do about it?".
She is concerned that increasing the rates will scare away her clients, so for the time being, she will continue to charge the standard cost of 8,000 rupiah per kilogram.