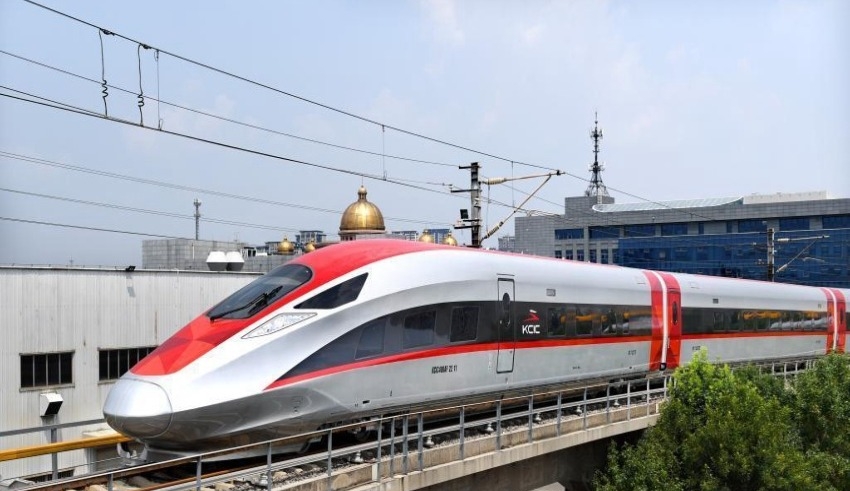 On Friday, the first batch of high-speed trains manufactured in China and destined for use on the Jakarta-Bandung fast-train route landed in the port of Jakarta (Sep 2).
It is the first high-speed rail link in Indonesia and will span a distance of 142 kilometers. It will feature one set of electric passenger trains in addition to an inspection train.
CRRC Qingdao Sifang, a subsidiary of China Railway Rolling Stock that is owned by the state, was responsible for the construction of the trains that left Qingdao Port in the Shandong region of East China two weeks ago.
The company will deliver an additional ten sets of electric passenger trains for the high-speed rail link that is a flagship project in China's Belt and Road Initiative (BRI) in Indonesia.
Additionally, this marks the very first time that high-speed trains manufactured in China have been shipped to a country in any region outside of China.
"Thank God, the first batch of the Jakarta – Bandung high-speed train has arrived in Indonesia," said Dwiyana Slamet Riyadi, president director of PT Kereta Cepat Indonesia-China (KCIC), a consortium of Indonesian and Chinese companies that oversees the landmark project. "The Jakarta – Bandung high-speed train will connect Jakarta and Bandung in just over an hour," said Dwiyana Slamet Riyadi.
According to KCIC, the high-speed rail will be the quickest trains in Southeast Asia. It will also be the first fast-train rail link in Indonesia.
The journey time between Jakarta and Bandung will be reduced from more than three hours to just around forty minutes thanks to a new rail line that is being constructed between the two cities.
Between the capital city of Jakarta and the capital city of the neighboring province of West Java, Bandung, there will be four stops.
According to KCIC, the construction of the railway is around 80 percent complete, and it is anticipated that it will be ready in June of the following year.
Related Posts
There will be a total of twelve train sets utilized for the completion of this project, 11 of which will be passenger train sets, and the remaining one will be an inspection train set for the rail line.
The trains will be transported from China to Indonesia in four separate lots, with the final lot scheduled to arrive in Indonesia in March 2023.
"The arrival of the trains is good news for Indonesia and shows that Indonesia can compete against developed nations," said Kartika Wirjoatmodjo, deputy minister of state-owned enterprises in Indonesia. "The arrival of the trains proves that Indonesia can compete against developed countries."
Each train set has a total of eight cars and has the capacity to carry a maximum of 600 passengers.
It features a first-class carriage that can accommodate up to 28 passengers, a VIP class that can accommodate 18 passengers, second-class cars that can accommodate 555 passengers, and a dining carriage.
The train will be capable of traveling at a top speed of 350 kilometers per hour and is expected to carry 30,000 people each and every day.
The plan to construct a high-speed railway between Jakarta and Bandung got under way in 2015 and had an original completion date of 2019 in mind.
China came out on top in a bid competition against Japan and was granted the contract, which was funded by the China Development Bank.
Despite this, the project was delayed multiple times as a result of issues such as the COVID-19 health and movement restrictions as well as land acquisition.
Mr. Riyadi reported to the Indonesian parliament in February that the cost is now estimated to be 113 trillion rupiah, which is an increase from the previous estimate of 66.76 trillion rupiah (about $4.48 billion).
It is anticipated that Chinese President Xi Jinping and his Indonesian counterpart, President Joko Widodo, will test out the railway in the month of November of this year.