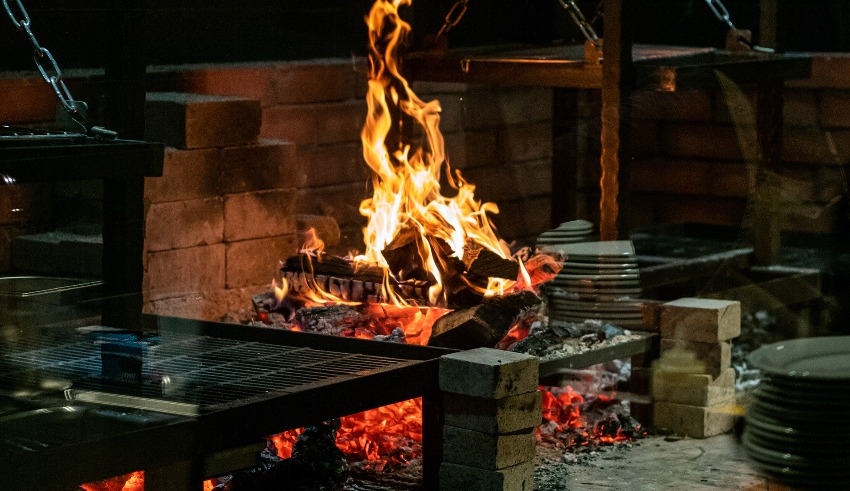 The cuisine of the Philippines is currently enjoying a moment of global prominence. One chef who was born in the Philippines and now works in Singapore has the goal of discovering every facet of the potential that the cuisine possesses.
The "Pinoy" cuisine, known for its bold flavors and long-standing barbecue traditions, has been the source of inspiration for the new woodfire restaurant Kubo, which can be found near Robertson Quay.
It is the brainchild of flame-obsessed chef Kurt Sombero, who was formerly the head chef at Meatsmith Little India and also worked at Burnt Ends and the restaurant formerly known as Restaurant Andre before they both went out of business.
But you shouldn't come here expecting to get "traditional" Filipino food since you won't. Sombero, who is 35 years old, told us, "I don't want to be authentic. I don't ever want to get to that point in my life. First, I am not now in the Philippines, and second, there are components that are unavailable in this location. And if I served conventional food, it would limit the number of people I could serve."
Instead, he approaches things by "taking something and putting it in a different light," as he expressed it in his own words. "I want to shatter the stereotype. We're not just trying to sell food here; we want to sell an experience as well."
The adventure starts with the name of the dining establishment. The traditional Filipino nipa house on stilts, built with reeds and straw, served as inspiration for the naming of the new establishment Kubo, which was opened in collaboration with Tora Widjaja and Tipsy Collective. The structure is a representation of community and is commonly referred to as a "bahay kubo." It is a cultural icon in the Philippines.
Sombero spent his childhood in a kubo on the island of Mindanao. "We didn't have electricity, so we lived mostly with fire and candles," he said, recalling his childhood activities, which included foraging for sweet potatoes in the ground, climbing moringa trees to pluck the leaves, and assisting his grandmother in the kitchen, which is what first inspired him to have a passion for cooking. "We lived mostly with fire and candles," he said, recalling his childhood activities, which included foraging for sweet potatoes in the ground.
"When I open Kubo, it's like taking a trip to the kampung all over again. "One of my objectives is to experience life to the fullest," he joked.
Related Posts
As a result, the very first thing that Sombero did after he gained control of the premises was to turn off the flow of gas.
Brick "pugons," also known as traditional brick ovens, serve as the focal point of Kubo's kitchen. His grandmother had one just like it. Food is cooked over an open wood fire, and the top of the pugon is made of cast iron, which is used to simmer sauces, soups, and stocks. In order to ensure that none of the energy produced by the fire is wasted, Sombero built the pugon to include a rotisserie, an elevation grill, and a special smoker that are all connected to it. According to him, he has never seen a kitchen set up like this in any other location.
Despite the fact that Sombero claims that Kubo "is a home" that serves "the best of our pantry," the food that is served here is anything but traditional. Instead, you'll find plates with a Filipino influence that have been elevated by treating the ingredients with a little of the flare associated with fine dining.
He stated, "I believe that a fantastic example of our ideology is the quail adobo." [Case in point] "In most cases, pork is used for adobo. However, in the Philippines, people have been eating quail for a very long time. The Filipino word for grilling quail is "asar," which literally translates to "grill." At Kubo, we take that concept and combine it with a modern approach to the kitchen to create our dishes. In most cases, the adobo is braised. The quail is first given a marinade, then smoked, then finished on our elevation grill, and finally served with mashed potatoes that have been flavored with garlic confit."
On the snacking menu, there is also chicken with an inasal coating that is served in the middle of the wing. He explained that the word "inasal" comes from the Spanish verb "asar," which means "to grill." Dishes prepared using inasal originate in the Visayas, which is also where a branch of my family was born. I took that concept and developed this aesthetic, drawing ideas from the other folks I worked with at the time. We start with chicken wings, remove all of the bones except for one, marinade the remaining bone in coconut vinegar, soy sauce, calamansi, and lemongrass for at least 24 hours, smoke it, and then finish it on our woodfire grill. In order to balance off the richness of the grilled meat, we accompany it with pickled papaya and annatto oil.
The house-aged duck with pineapple sauce and timut peppers is another one of Sombero's specialties. This meal, which Sombero only prepares for his family at the year-end holidays and which is similar to a Christmas ham, is only made once every year. According to him, "We cure the duck and age it for seven days, then we gently smoke it, and last we finish it in the oven so that it is crispy."
"We smoke the pineapple skin till it's black, simmer it down with water, take the essence of smoked pineapple and infuse it into our jus," is how the pineapple jus is made.
The pineapple meat is used in a dessert consisting of pineapple, coconut ice cream, spiced butter crumbs, and pickled roselle. The pineapple meat is not wasted. The ice cream is made by first reducing coconut cream for five hours, then infusing it with coconut meat that has been smoked over the fire in accordance with a method originating in Mindanao.
You can invite Sombero to take you along on his voyage by ordering the Kusinero dinner menu, which costs S$150 per person and is an omakase-style meal consisting of five courses. You might also come for lunch on the weekend, when there is a plate of grilled meats and munchies available for S$80 per person. Even on the weekends, customers can get lechon. A whole pig is roasted on a spit, and the flesh and crackling are served. The head of the pig is used to make sisig, which involves smoking it, chopping it up, and caramelizing it in a skillet. It is then served with foie gras and salted egg.