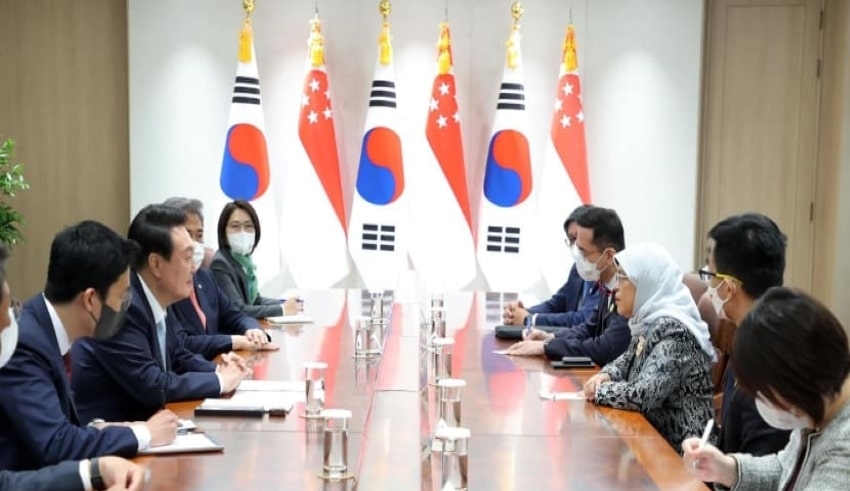 Korea – Following President Yoon Suk-yeol's inauguration on Tuesday, President Halimah Yacob of Singapore and President Yoon Suk-yeol of South Korea have reached an agreement to boost the level of bilateral cooperation between their respective countries (May 10).
The Ministry of Foreign Affairs (MFA) of Singapore released a statement on Tuesday evening saying that the leaders of the two nations had identified numerous areas in which the two countries may collaborate. These sectors include digitalization, aviation connectivity, and people-to-people interactions.
According to the Ministry of Foreign Affairs, President Yoon has also promised to investigate whether or not there is a chance of increasing the number of aircraft that go between Singapore and South Korea.
Mdm Halimah was in Seoul on Tuesday to attend the inauguration of President Yoon and a banquet meal that was held in his honor.
The leaders also expressed their satisfaction with the completion of the Korea-Singapore Digital Partnership Agreement, which is scheduled to be inked in the near future. This is the very first agreement of its kind between nations in Asia on the digital economy.
Related Posts
They also addressed the Comprehensive Economic Partnership in the Regional Area as well as South Korea's desire in joining additional accords such as the Comprehensive and Progressive Agreement on Trans-Pacific Partnership and the Digital Economy Partnership Agreement.
According to the Ministry of Foreign Affairs (MFA), Mdm Halimah "welcomed President Yoon's determination to strengthen and widen cooperation with ASEAN."
According to the Ministry of Foreign Affairs, the leaders discussed the situation in Myanmar and came to the conclusion that it is necessary for "the full and rapid implementation of the ASEAN Five-Point Consensus."
According to the ministry, Mdm Halimah also underlined Singapore's determination to work closely with South Korea and the international community to ensure peace and stability on the Korean Peninsula and across the region.
The president will return to Singapore on Wednesday.