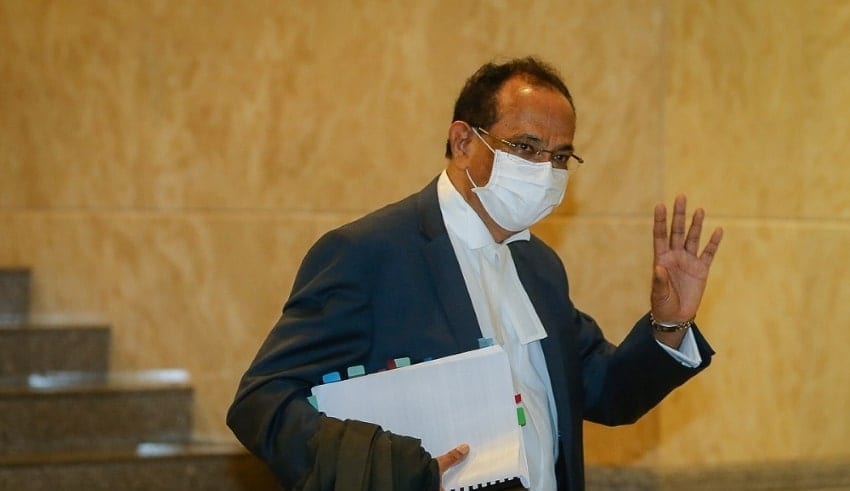 Ad hoc prosecutor Datuk V. Sithambaram said that Datuk Seri Najib Razak was playing tricks in order to cover the fact of the matter after Najib claimed during the prosecution's rebuttal in his appeal hearing against conviction of misappropriating RM42 million of SRC's funds that it was the fugitive businessman Low Taek Jho who manipulated his account tricking him into thinking that he has the funds when he did not.
Sithambaram has called Najib's claim as absurd and pointed out in the court that it was Najib who have commissioned Jho Low, Datuk Seri Azlin Alias which is Najib's previous principle private secretary and former SRC International chief executive Nik Faisal Ariff Kamil to make sure that there are enough available funds such that Najib would be able to distribute cheques at his disposal.
Related Posts
He said that the three individuals were similar to the Roman triumvirate as they follow Najib to do the job of securing sufficient funds for his use.
Sithambaram questioned the statement made by Najib and told the court that this was just a trick to simply cover up the truth. He went even further and called it a "cock-and-bull story" as he can't believe such claim which he said is an obvious lie.
He asserted that the fact that Low is involved in ensuring that there's enough money for Najib to use is the only thing that is beyond doubt.
It was also stated in his submissions that even Najib himself has acknowledged that Jho Low together with Datuk Azlin and Nik Faisal were given the responsibility of doing so. These actions of Jho Low was in fact carried out with Najib being fully aware of these all and not that he is tricked into believing that he had the Arab funds in his bank account.
Despite his claims that Low is the one who manipulated his account and that he has no knowledge at all of the funds, evidence clearly shows that Najib solely profited from the millions of money that were deposited into his account.
Sithambaram cited three issues in the defense lawyer's argument in which Najib claims that he was deceived and framed into committing the offenses. The first one was in which there was no reason for Low to trick Najib that the Arab funds are still available and judging from how Najib had spent the money, it was impossible for anyone to not realize that the RM42 million was really Arab donations. Especially, bank documents showed that the bulk donations was either returned or had been completely used even before the RM42 million from SRC entered the bank.
The second one was when Najib himself admitted that Jho Low is involved in making the deposit of funds in the account to make sure that it is sufficient for Najib to utilize.
And the last one which he said that if Jho Low indeed deceived him, the investigation would have showed Jho Low using the funds, but it turns out that it was Najib who have been utilizing it.
He said that holding Jho Low accountable is simply outrageous. The appeal hearing before Court of Appeal judge Datuk Abdul Karim Abdul Jalil who chaired a three-member panel alongside Datuk Has Zanah Mehat and Datuk Vazeer Alam Mydin Meera continues.