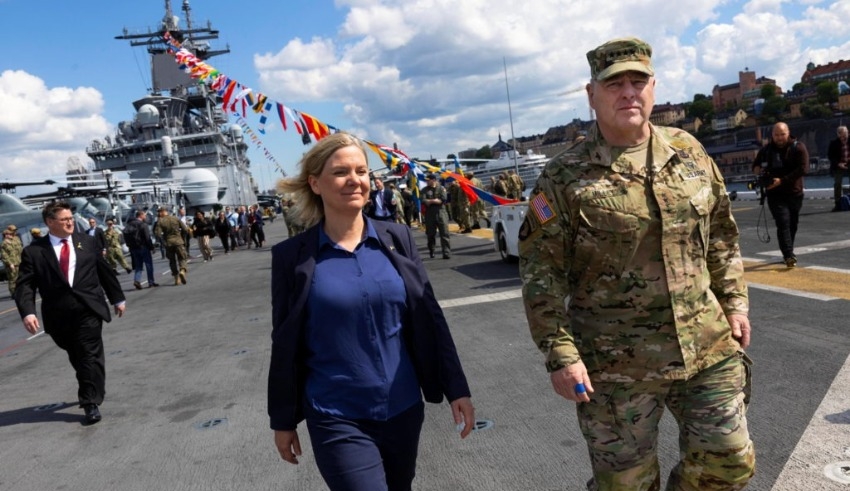 SWEDEN: After decades of neutrality, Sweden and Finland agreed to join NATO, the world's most powerful military alliance, on May 18, citing Russia's invasion of Ukraine as a turning point.
The Nordic countries' bids appeared to be on track to receive the necessary unanimous backing from all 30 NATO members.
Then they are thrown a problem: Turkish opposition. President Recep Tayip Erdogan accused the countries of sheltering "terrorist" organizations that he claims pose a security danger to his country, particularly Kurds from Turkey and elsewhere who are agitating for their own land.
These include the Kurdistan Workers Party, or PKK, which has been fighting Ankara for decades seeking greater Kurdish independence, as well as the Democratic Union Party, or PYD, and its militia, the YPG People's Protection Units, which are PKK offshoots operating in Syria.
Sweden denies hosting members of such organizations, citing the fact that the PKK is banned in several countries, including the United States, the United Kingdom, and the European Union, of which Sweden is a member.
Related Posts
On the other hand, certain Western countries have helped the YPG in its fight against ISIS.
Meanwhile, Finland, which has fewer Kurdish migrants, has taken its own "tough-on-terrorism" attitude.
So far, such declarations, frantic diplomacy, and White House support haven't been enough to break the impasse and overcome Turkey's objections.
Turkey, Finland, and Sweden will meet Monday at NATO headquarters in Brussels to discuss Turkey's concerns, according to a NATO official.
After escaping war-torn Iraq in 2014, Bahir sought safety in Gothenburg, Sweden's second largest city. He became part of a Kurdish minority of 100,000 people, which experts estimate currently accounts for about 1% of the country's population.
Kurds do not have an official homeland; the majority of Kurds live in Middle Eastern nations such as northern Iraq, eastern Turkey, western Iran, and minor parts of northern Syria and Armenia, and many of those who now live in Sweden are from these areas.
Prior to the application, Swedes were divided on their country's choice to join NATO, with polls showing that just over half of the population supported the move. Many Kurds in Gothenburg are also skeptical.
Experts believe Turkey is renewing its quest for the extradition of dozens of Kurds it claims have ties to organizations that threaten its security as Sweden's NATO membership hangs in the balance.
Many of the people Turkey wants to extradite are now Swedish citizens, and the matter is so sensitive that Stockholm has been hesitant to discuss it publicly, other than to say it wants to have a broader bilateral engagement with Turkey on these problems.