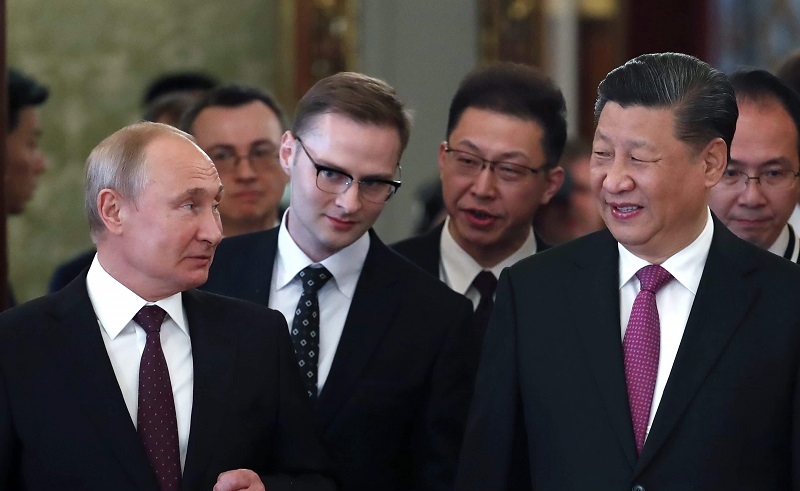 Beijing – On Wednesday, June 15, President Xi Jinping assured Vladimir Putin of China's support for Russian "sovereignty and security." This prompted Washington to warn Beijing that they risked ending up "on the wrong side of history."
China has declined to denounce Russia's unprecedented military assault on Ukraine and has been accused of providing diplomatic cover for Moscow by criticizing Western sanctions and arms exports to Kyiv.
President Xi said during a phone discussion with President Putin that China is ready to continue to offer mutual support to Russia on matters touching on basic interests and major concerns such as sovereignty and security.
It was the two leaders' second phone conversation since Putin launched his incursion on Ukraine on February 24.
Xi allegedly stated that Beijing was eager to "intensify strategic coordination between the two countries." In the face of "illegal" Western sanctions, the two presidents agreed to increase economic cooperation, according to the Kremlin.
According to the Kremlin, the agreement constitutes an opportunity to expand cooperation in the energy, financial, industrial, transport, and other areas as they take into account the situation in the global economy that has grown more problematic due to the West's unjust sanctions policy.
However, the US quickly responded with a scathing retort to Beijing's stated support for Moscow.
According to a State Department spokesperson, China is only pretending to be impartial, but its actions show that it is still investing in tight connections with Russia.
Moreover, the official then states that Washington was "closely monitoring China's behavior," particularly how, nearly four months into Russia's war in Ukraine, the Asian behemoth was "still echoing Russian propaganda across the world" and implying Moscow's atrocities in Ukraine were "manufactured."
"Nations that side with Vladimir Putin will inevitably find themselves on the wrong side of history," said the spokesperson.
Growing Relationship Between The Two Nations
In retaliation for Russia's invasion of Ukraine, the West has imposed unprecedented sanctions, and Moscow believes that Europe and the United States have thereby triggered a global economic downturn.
Moscow is also on the lookout for new markets and suppliers to replace the large international companies that fled the country after the invasion.
The European Union and the United States have warned that any support for Russia's conflict from Beijing, as well as any assistance to Moscow in evading Western sanctions, would be damaging to relations.
China and India are the only two big economies that have not retaliated against Moscow.
According to Chinese authorities, the Europeans have been pulled into supporting Ukraine on Washington's initiative, despite the fact that it is against their interests as Russian gas consumers.
Beijing and Moscow, formerly bitter Cold War foes, have increased collaboration in recent years as a counterbalance to what they regard as US global domination.
As part of their "no limits" alliance, the two have grown closer in the political, trade, and military spheres.
They unveiled the first road bridge connecting the two countries last week, connecting the far eastern Russian city of Blagoveshchensk to the northern Chinese city of Heihe.
The leaders spoke on Xi's 69th birthday, and it was their first official communication since Russia launched its invasion of Ukraine.
According to Chinese customs figures, Beijing is Moscow's top commercial partner, with trade volumes reaching US $147 billion last year.