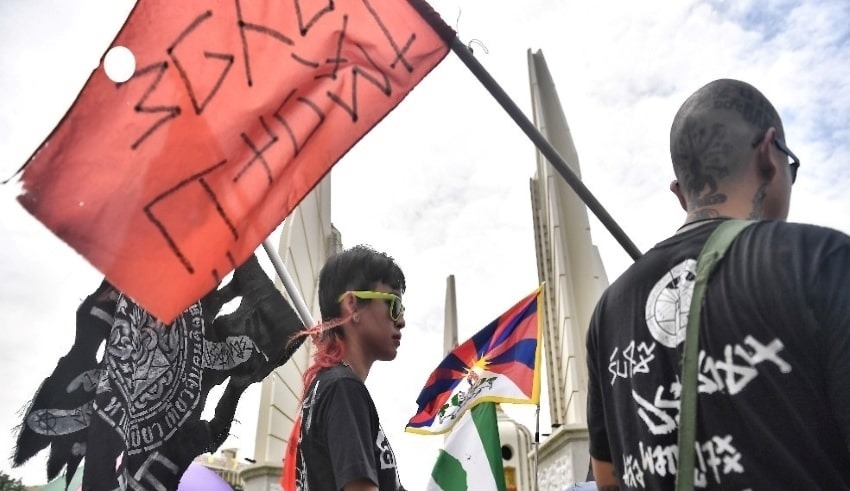 Tensions are expected to increase at an anti-government rally in Bangkok after police detained a number of protest leaders, including Jatupat "Pai Daodin" Boonpatararaksa.
Police also vowed to stop them from marching to Government House in another move likely to frustrate the demonstrators, after a group of royalists tried to foil them by mobilizing supporters along the path of a royal motorcade.
A group of approximately 20 demonstrators, led by Mr. Jatupat, set up tents in front of a McDonald's restaurant near the Democracy Monument on Ratchadamnoen Avenue and Satriwithaya School ahead of the mass rally. In view of this, Mr Jatupat, who was on the back of a pickup truck on a makeshift platform, gave a speech through a loudspeaker, next to a banner reading, Dissolve the House under new rules and abolish Section 112.
This prompted the police to ask them to stop their protest because His Majesty the King's motorcade on the way to the Grand Palace was to be used near Ratchadamnoen Road, where royal ceremonies were held on Tuesday to mark the fourth anniversary of the passing of His Majesty King Bhumibol Adulyadej the Great.
The protesters, however, disregarded the police order, leading officers to arrest Mr Jatupat and other leaders of the demonstration. Pol Col Kissana Phathanacharoen, deputy police spokesman, said about 19 protest co-leaders were detained for breaching the rule of the public assembly by failing to obtain the police's prior permission.
They were taken to the headquarters of Border Patrol Police Region 1 in Pathum Thani, Pol Col Kissana said. Pol Col Watcharawee Thammasema, commander of Division 3 of the Special Branch Bureau, said police would prohibit demonstrators from accessing the Government House on Wednesday and would ask them not to use Ratchadamnoen Road, as the Royal Motorcade would be used.
Pol Maj Gen Somprasong Yenthuam, deputy chief of the Metropolitan
Police Bureau, shared his concern about the rivalry between the opposing groups and the fact that senior officers were developing steps to avoid any conflicts.
His Majesty the King will go to the Emerald Buddha Temple to attend the graduation ceremony for monks and novices who have completed Pali studies. The police would try to force demonstrators to use Nakhon Sawan Road nearby. They will be permitted to go as far as the Chamai Maruchet Bridge, where they will set up barricades to keep them from going to the Government House.
The public assembly law stipulated that demonstrators should not go within 50 meters of the premises, Pol Col Watcharawee, who oversees protection around Government House, said. The rally, including royalist parties, has attracted fierce criticism from critics.
In front of the Temple of the Emerald Buddha, the Thai Pakdee (Loyal Thais) party plans to assemble and wait for the royal motorcade, while another pro-monarchy party, the Garbage Collection Organisation, will assemble at Makkawan Rangsan.
Related Article: https://www.theasianaffairs.com/thailand/2020/09/18/up-to-20000-at-rallies-security-agencies-predict/