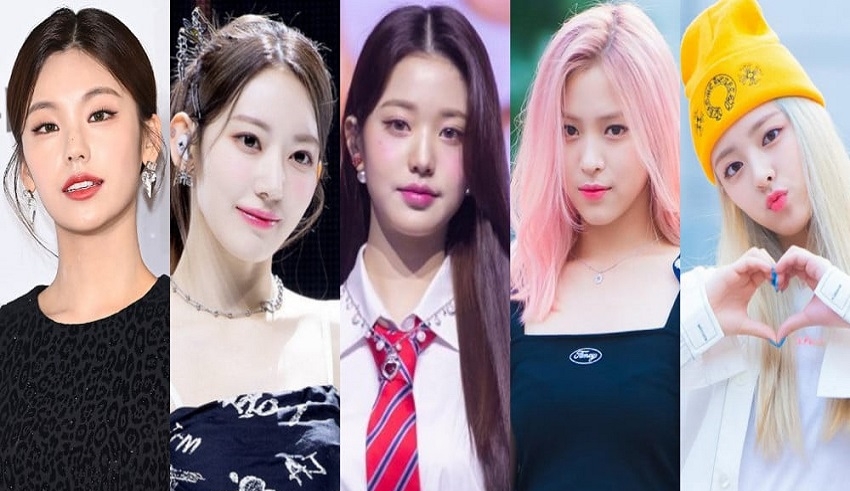 These days, fourth generation K-Pop musicians are dominating the market and winning accolades on music events. It's always wonderful to see your favourite musicians take home an award on one of the six major music competition shows in South Korea: The Show, Show Champion, M Countdown, Music Bank, Show! Music Core, and Inkigayo. Winning an award on any of these shows is a great accomplishment. The 15 K-Pop groups from the fourth generation that have racked up the most accolades are listed below.
Also Read – Biden will talk about anti-Asian hate crimes with K-pop group, BTS
15. Kep1er
They have won a total of four music show accolades since their 2022 debut! The winning songs are "Up!" and "WA DA DA," which each got four awards.
14. LE SSERAFIM
Source Music and Hybe Corporation collaborated to create the South Korean female group Le Sserafim. Sakura, Kim Chae-won, Huh Yun-jin, Kazuha, and Hong Eun-chae make up the group. When Kim Ga-exclusive ram's contract expired on July 20, 2022, the original sextet disbanded.
13. AB6IX
South Korean boy band AB6IX was created by Brand New Music. Four people make up the group at the moment: Jeon Woong, Kim Dong-hyun, Park Woo-jin, and Lee Dae-hwi. The group's departure from the former leader Lim Young-min was announced on June 8, 2020.
12. X1
South Korean boy band X1 was created by CJ ENM as part of the Produce X 101 reality competition on Mnet. Kim Yo-han, Kim Woo-seok, Han Seung-woo, Song Hyeong-jun, Cho Seung-youn, Son Dong-pyo, Lee Han-gyul, Nam Do-hyon, Cha Jun-ho, Kang Min-hee, and Lee Eun-sang made up the group, which had eleven members in all.
11. STAYC
South Korean girl group STAYC was created by High Up Entertainment. Six people make up the group: Sumin, Sieun, Isa, Seeun, Yoon, and J. With the release of their debut single album Star to a Young Culture on November 12, 2020, they made their public debut.
10. ENHYPEN
The South Korean boy band Enhypen was established by Belift Lab, a collaboration between CJ ENM and Hybe Corporation, through the 2020 survival competition programme I-Land. Heeseung, Jay, Jake, Sunghoon, Sunoo, Jungwon, and Ni-ki make up the group's seven members.
9. Aespa
Aespa is a girl group from South Korea that was produced by SM Entertainment. The group is made up of Giselle, Winter, Ningning, and Karina. They debuted on November 17, 2020, with the song "Black Mamba."
8. ATEEZ
Ateez is a boy band from South Korea that was made by KQ Entertainment. The other members of the group are Hongjoong, Seonghwa, Yunho, Yeosang, San, Mingi, Wooyoung, and Jongho. They made their debut on October 24 with the extended play Treasure EP.1: All to Zero.
7. Stray Kids
Through the 2017 reality programme of the same name, JYP Entertainment created the South Korean boy band Stray Kids. Bang Chan, Lee Know, Changbin, Hyunjin, Han, Felix, Seungmin, and I.N. are the other members of the group.
6. TXT
Big Hit Entertainment, currently known as Big Hit Music, founded the South Korean boy band Tomorrow X Together, also known as TXT. The group consists of Yeonjun, Soobin, Beomgyu, Taehyun, and Huening Kai. They made their debut on March 4, 2019, in the extended play The Dream Chapter: Star.
5. THE BOYZ
The Boyz is a South Korean boy band that was founded and is managed by IST Entertainment. The lead song from the group's first EP, The First, "Boy," which was released on December 6, 2017, marked their public introduction.
4. IVE
South Korean female band Ive was created by Starship Entertainment. Six individuals make up the group: Gaeul, Yujin, Rei, Wonyoung, Liz, and Leeseo. On December 1, 2021, they released their debut album, Eleven, a single.
3. IZ*ONE
The South Korean-Japanese female group Iz*One was created as a result of the Mnet reality competition Produce 48. Jang Won-young, Sakura Miyawaki, Jo Yu-ri, Choi Ye-na, An Yu-jin, Nako Yabuki, Kwon Eun-bi, Kang Hye-won, Hitomi Honda, Kim Chae-won, Kim Min-ju, and Lee Chae-yeon were the group's twelve members.
2. (G)I-DLE
Cube Entertainment created the South Korean female group G)I-dle in 2018. Five people make up the group: Miyeon, Minnie, Soyeon, Yuqi, and Shuhua.
Also Read – BTS returns to the stage for the first time since the pandemic in Seoul
1. ITZY
Yeji, Lia, Ryujin, Chaeryeong, and Yuna make up the JYP Entertainment-created South Korean girl group Itzy. On February 12, 2019, they made their public debut with the release of their single album It'z Different.