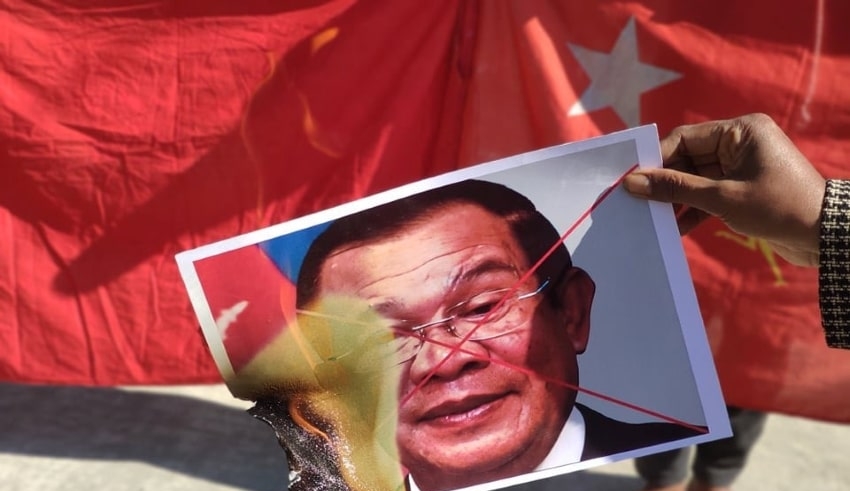 (C) Aung Kyaw Moe / Twitter
Cambodia – On Friday, Cambodian PM Hun Sen was greeted with a red carpet and an honour guard in Myanmar, while coup opponents protested elsewhere in the nation, fearing his visit would legitimize the junta.
Meeting with Myanmar's military rulers was the first by a head of state since the army deposed Aung San Suu Kyi's civilian government on Feb. 1, triggering months of unrest and a brutal crackdown.
The ASEAN, which Cambodia now chairs, has been spearheading diplomatic efforts to settle the Myanmar conflict, adopting a five-point "consensus" peace plan in April.
Other Asean nations, especially Indonesia, have criticised the junta for not implementing the plan.
Opponents of military authority in Myanmar say Hun Sen is supporting the regime by visiting.
Protesters in Depayin, 300 km north of Naypyidaw, torched a picture of Cambodian Prime Minister Hun Sen and screamed "Hun Sen don't come to Myanmar. We don't want dictator Hun Sen", as seen in photographs circulating in social media.
Related Posts
Protests were reported in Mandalay, Tanintharyi, and Monywa.
Hun Sen appealed for caution from all parties in Myanmar on Wednesday and adherence to the peace plan.
"Do you want a true civil war in Myanmar or do you want it solved?" he asked.
Indonesian President Joko Widodo tweeted this week that if no meaningful progress was made on the peace plan, only non-political Myanmar delegates should be allowed to attend Asean summits.
Min Aung Hlaing was prohibited from an Asean meeting in October for failing to stop hostilities, enable humanitarian access, and initiate negotiations as planned.
Last month, Hun Sen suggested junta officials should be permitted to attend Asean meetings.
Min Ko Naing, a prominent Myanmar activist, warned Hun Sen's visit will be met with enormous demonstrations, harming Asean.
Hun Sen is a long-serving politician who has been denounced by Western nations and human rights organisations for cracking down on opponents, civil rights groups, and the media in Cambodia.
According to Amnesty International's Deputy Regional Director for Research Emerlynne Gil, Hun Sen should instead lead Asean to take bold measures to solve the country's "dire human rights situation."
Hun Sen will meet with military chief Min Aung Hlaing, but a junta official told the US-funded Radio Free Asia that he would not meet with Aung San Suu Kyi, who has been arrested since the coup and is facing nearly a dozen charges with cumulative maximum penalties of more than 100 years in prison.