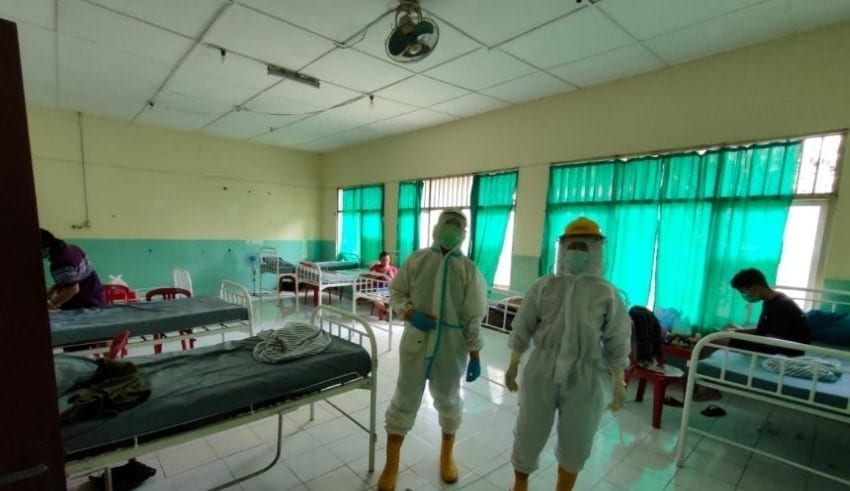 In one of the worst coronavirus-hit areas in Indonesia there are grassroots campaign that aims to help alleviate a health crisis in the nation where hospitals are struggling to cope as patient numbers increase.
Last month, in Yogyakarta, a province in Java, Sonjo, a WhatsApp community organization tapped its personal network to help the district government transform a disused hospital into an isolation center to accommodate COVID-19 patients with mild to no symptoms.
Although the government compensated for the costs of sterilizing the Patmasari Veteran Hospital in Bantul and equipping the wards with some 60 beds, Sonjo volunteers helped collect funds for personal protective equipment such as hazmat suits and masks as well as other medical requirements.
Dr. Rimawan Pradiptyo who heads the economics department at Gadjah Mada University in Yogyakarta shared that the community was established last March to help poor populations deal with the pandemic, after the first cases were reported in Indonesia.
In the spirit of gotong royong or reciprocal collaboration, volunteers helped patients travel between hospitals to ensure that they obtained the right care and connected hospitals to distributors and suppliers facing a shortage of protective equipment. The isolation center, known as shelter tangguh or resilient shelter is the newest in the group's long line of self-help projects, which have now expanded to more than 1,500 participants spread across 14 chat rooms in WhatsApp.
Indonesia remains South-East Asia's worst-hit country for Covid-19, with events surpassing 1.2 million and deaths topping 32,000. While last month the government embarked on mass vaccines, inadequate testing, touch tracing and health guidelines have not worked to curb infections. This has put enormous pressure on hospitals and health staff in particular.
Along with this, Dr Rimawan said that without the assistance of sensitive and hands-on government and community officials, the volunteers could not have done it. In the early days of the pandemic, for instance, the Bantul government set up emergency hospitals and shelters, even though there was no need for isolation beds.
But since then, the number of cases has swelled, requiring several more beds, particularly for those with milder symptoms. And now, in expectation of more spikes, the government is rushing to build shelters in 75 villages in order to accomplish something better amidst the pandemic.