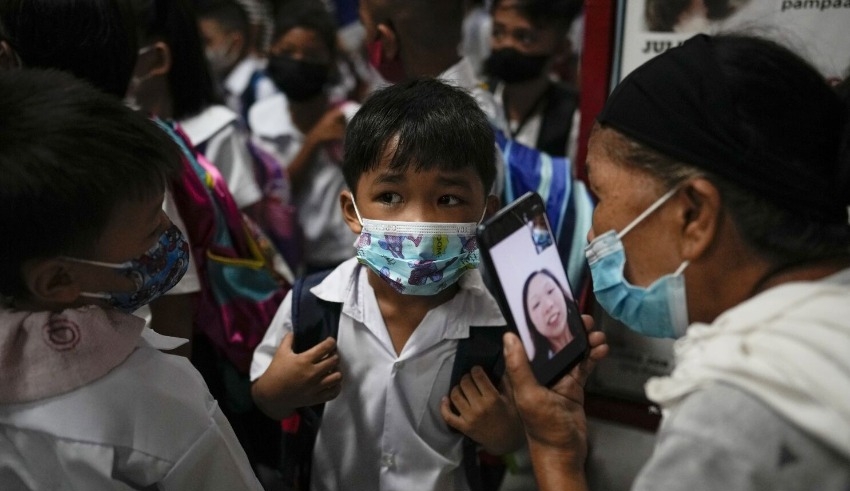 As prices of goods rise in the Philippines, Baguio and other students have gone back to face-to-face classes. Thousands of people crowded outside DSWD's central and regional offices on August 20 because they needed cash aid. They wanted to use the agency's education aid, but they weren't ready and there were problems with logistics, so the event didn't go as planned.
Since then, the DSWD has asked the Department of the Interior and Local Government for help with giving out the education aid, which will make it easier to do so in the future.
Andrenaline Jacaba, a mother of two college students, got her last payment from the DSWD's Assistance to Individuals in Crisis Situation (AICS) program on September 24.
The situation at the place where aid was given out was very different from the chaos that was going on in other parts of the country on the first day of giving out aid.
"It was set up," said Jacaba, whose child is a tourism major at a local college and got P4,000 for her. She said that the money would help pay for her daughter's school uniform and other fees.
Shalaine Marie Lucero, who is in charge of DSWD in Central Visayas, said that after the chaos of the first payout, fewer people came to the regional office.
In a phone interview with Rappler, Lucero said in Cebuano, "The progress has been great."
"After the online registration system was put in place, we were able to handle the situation from the start, when people were lining up to get help," she said.
In an interview with Rappler, Rosemarie Salazar, who is in charge of the Cebu City Sports Complex (CCSC) site, said that barangay officials helped make sure the payout went smoothly on Saturday.
"We met with people from the disaster office and the social welfare office of the LGU," she said.
Keep Reading
She also said that they went from house to house with barangay officials to help people who were eligible for the program sign up.
Rommel Lopez, who works for DSWD, said that the situation was the same everywhere.
Nearly 41,000 people in Central Visayas got cash aid.
Since 3,000 eligible students in the area have not yet asked for help, the DSWD is giving them one more chance to do so on Friday, September 30. Instead of waiting for the beneficiaries to come to them, the DSWD will go out and find them so they can get their money.
Under the program to help students in need, college students get P4,000, students in senior high school and high school get P3,000 and P2,000, and students in elementary school get P1,000 each.
The DSWD said that on September 24, almost P201 million was asked for by 84,000 students. Since the first payment, over 600,000 poor students have received a total of P1.6 billion, which is more than the DSWD's goal.
Lopez said, in Filipino, about having an extra payout day, "This wouldn't be impossible if there are still funds. But we have to let them know that this will still be looked at and talked about to see if the remaining funds are enough. Once we have done that, we will make a decision."
Since face-to-face classes have started again, government cash aid has become a lifeline for poor families who send their kids to school.
IBON Foundation said that government cash aid has been "slow, too little, and only for a limited number of beneficiaries." They called the government's cash aid program "token ayuda."
"These subsidies are helpful for those who can get them, but they are not enough. They need to help many more Filipinos in need," IBON said.
With its proposed P196 billion budget for 2023, the DSWD says it wants to improve the way it provides social services. The Pantawid Pamilyang Pilipino Program, or 4Ps, is the name of the conditional cash transfer program that the DSWD wants to get P115,6 billion for.
Progressive groups in the House of Representatives criticized the proposed 2023 budget for not having enough money or not having enough money for programs that help improve society, such as subsidies for farmers' crops, wage subsidies for small businesses, and fuel subsidies for drivers.