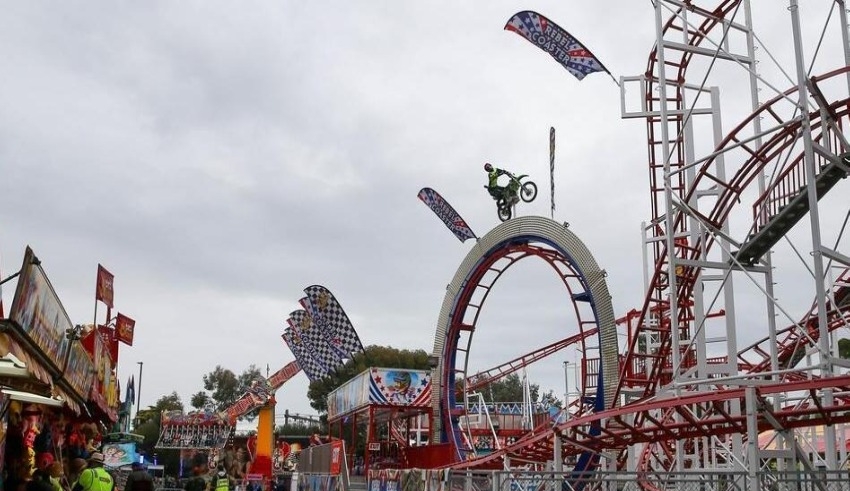 The person who saw a woman get thrown into the air by a roller coaster says he and his family are traumatized by what they saw.
Jordan, whose last name was not given, told 7NEWS.com.au that only a few people saw what really happened on Sunday night at the Melbourne Royal Show.
He was filming the Rebel Coaster ride while his sister Chloe and his partner Alex were in the front carriage going around a loop.
But when they did, the ride hit Shylah Rodden, who was 26 years old, and lifted her several meters into the air before she fell.
Jordan saw what happened right before the crash, and he says he "hasn't slept since."
"My sister and her partner were called up before to go on the ride, but there was only one seat, so they had to wait for the next one," he said.
"While we were waiting, we saw something fall from one of the rides, but we didn't know what it was. The ride my partner and sister were on went around after about 10 minutes."
"We saw a woman in a place she shouldn't have been. A worker told her to leave, but we couldn't hear the whole thing. All we heard was that she shouldn't be there. I didn't think much of it when that person started to walk away."
Then he turned back to the ride his sister and her partner were taking and started to record.
The video that caught the accident by accident shows a woman standing by the ride's tracks.
Related Posts
She seems to be looking down, so she doesn't notice that the carriage and its people are yelling at her.
"But you can see that she bent down to pick something up. I don't know what it was, but she was so focused on getting it that she didn't even notice the ride."
He said that she was quiet when she was hit.
He said, "I didn't hear her scream."
Jordan said he agreed to talk about the disaster to bring attention to the first responders, who were not seen by the public.
Within minutes of the accident, police and Show staff were there to talk to people and block off the area.
Chloe and Alex were still on the ride when it broke down. They were stuck up there for almost an hour.
But to make them more comfortable, workers moved them by hand from the steep slope they were on to a more level part of the track.
Jordan said, "They were up there for about 45 minutes, but I can see how it could have seemed like hours."
He said that the police were the first ones to arrive and offer help and information.
Jordan said, "They gave us counseling, phone numbers to call, and all that."
The video he took, which he calls "lucky or unlucky," was given to the police so they could figure out what happened.
It was already on social media, but Jordan didn't post it.
Shylah is still in very bad shape days after what happened.
Her family says she has broken several bones and hurt her head.
The Melbourne Royal Show's organizers said in a statement on Tuesday that WorkSafe had finished inspecting the ride and given it the green light to start running again.
"The safety and well-being of our Show visitors remains our top priority," said the statement.
"Strict safety rules are followed, just as the Victorian WorkSafe rules say. All rides on the site have been through strict inspections and have all the necessary safety paperwork."
But Rodden's family said they were "saddened and appalled" that the ride had reopened so soon after the accident.
Earlier, the CEO of the Melbourne Royal Show, Brad Jenkins, called it a "tragic accident" and said he was thinking of the young woman's family and friends.