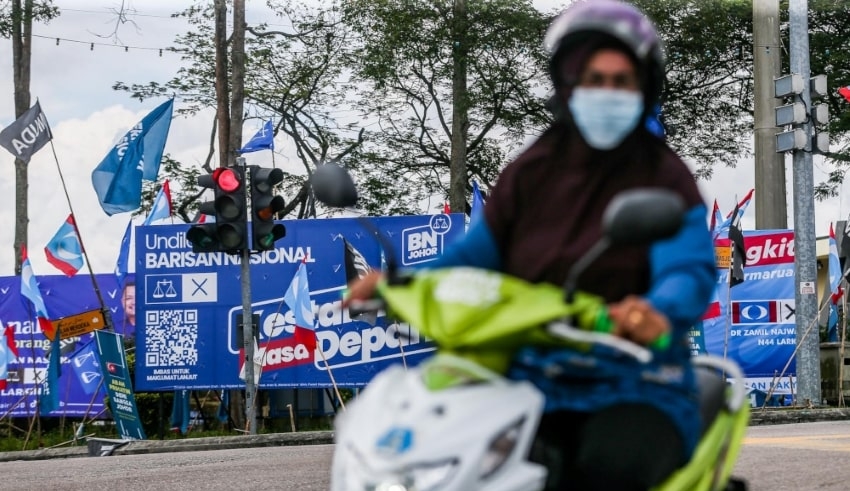 Malaysia – According to an Ilham Centre poll, Barisan Nasional (BN) is on track to establish the next Johor administration by securing at least 35 of the 56 state legislative seats where Malay voters account for two-thirds of the voters.
Opposition split, local psychographic, divided votes generated by multi-cornered elections, and a predicted lower voter turnout are among the primary variables that will give BN the lead, according to the think tank.
The major Opposition bloc, Pakatan Harapan (PH), is anticipated to win just 10 seats, with the remaining 11 seats up for grabs, according to the think tank, with Perikatan Nasional (PN) gaining ground in these seats to emerge as a credible rival to both BN and PH.
"Based on these characteristics, our field research concluded that BN would win handily over their opponents," it said in a statement. "These factors include demographic location, geography, and psychographic of Johor voters; opposition division, multi-cornered content, and a smaller proportion of voter participation."
It also noted that the rift in the Opposition in Johor is far more obvious than in Melaka state elections.
According to the think tank, the predictive survey polled 1,391 people by face-to-face randomized stratification. Because of Johor's diverse population and topography, each of the 56 constituencies differs from the others "as if by-elections were held in all 56 seats," according to the think tank.
Related Posts
Data was acquired using a combination of analysis, observation, and semi-structured interview methods, with each seat's micro variables and characteristics taken into consideration.
16 state constituencies (or 29%) have more than 70% ethnic Malay voters, whereas 23 state constituencies (or 40%) have between 50 and 69 percent Malay votes. The remaining 17 seats have less than 50% Malay voters.
According to the statistics analyzed by Ilham Centre, BN looked to be dominating not just in seats where Malays make up 70% of the electorate, but also in constituencies where Malays make up 50% to 69 percent of the electorate, despite heavy opposition from PN and PH.