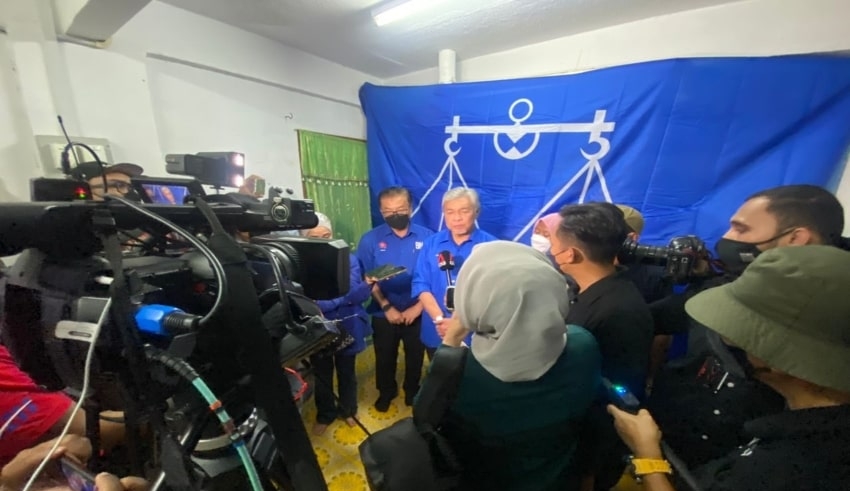 (C) Ahmad Zahid Hamidi / Twitter
Malaysia – Muhammad Shakir Ameer Mohideen, vice-chairman of the DAP Socialist Youth (Dapsy), claimed today that if the Barisan Nasional (BN) wins the Johor state election, it will pave the way for Datuk Seri Ahmad Zahid Hamidi to become Malaysia's 10th prime minister, effectively putting an end to several court cases involving Umno leaders.
Shakir also said that BN's use of the notion of stability as a campaign theme in the Johor state elections is deceptive and would lead to a power struggle among Umno leaders as the party's election approaches, adding that this would only further destabilize the country's politics.
"BN aims to leverage the momentum from its win in Melaka to secure a comfortable mandate in Johor so that it may cause the dissolution of Parliament for the next general election under the leadership of Umno president Zahid Hamidi.
"If the BN's momentum continues, the Umno president will be further strengthened, allowing him to seek the office of Prime Minister." "With Zahid Hamidi as the 10th Prime Minister, the corruption, breach of trust, and money laundering court proceedings that he and his associates are facing would most likely be closed," he stated today in a statement.
Foreign investors would be hesitant to invest in Malaysia if this happened, he claimed, citing the country's present political atmosphere and corruption index as reasons.
Related Posts
"If investors are apprehensive, they would most likely not invest in our nation, raising unemployment."
"Even in this circumstance, we've lost investments to our South-east Asian neighbors," he remarked.
He also noted that BN did not earn a large gain in votes in the last Melaka state election when compared to prior elections, while also urging individuals residing outside Johor to return and vote for Pakatan Harapan (PH).
"BN did not get a big rise in votes in the recent Melaka state election."
"As a result, it is critical that voters from outside of Johor return to vote for PH in order to prevent Umno from wrecking our country's politics — which will eventually recover so that people may live without fear," he stated.