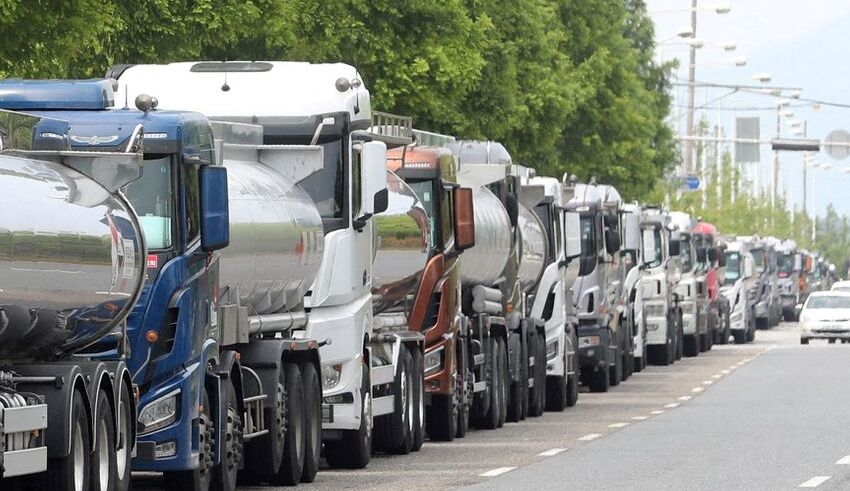 The government of South Korea planned to meet with the country's striking truckers' union on Monday (Nov 28) for the first time since a statewide strike began five days ago, as supply chain problems deteriorated and construction sites experienced concrete shortages.
The government has upgraded its warning of cargo transport disruptions caused by the strike to "severe," the highest rating on its scale, the transport ministry announced on Monday.
Sunday's union statement, though, offered little hope for a resolution to the issue. "The position of the transport ministry has already been determined, and there is no opportunity for negotiation, so this meeting is not a negotiation… the content is a demand for an unconditional return to work," the union said.
Last week, South Korean President Yoon Suk-yeol criticized the second major strike in less than six months by thousands of unionized truckers for better pay and working conditions as holding the nation's logistics "hostage" during an economic crisis.
"We must build a rule of law between labor and management," Yoon reportedly remarked on Monday, according to the office of the president. Yoon will personally preside over a cabinet meeting on Tuesday where a "work force order" requiring striking truckers to return to work would be discussed, according to his office.
Keep Reading
According to South Korean legislation, the government may issue an order compelling transport workers to return to work in the event of a significant transportation interruption. Infractions are punishable by imprisonment for up to three years or a fine of up to 30 million won (US$22,550).
The Cargo Truckers Solidarity Union (CTSU) has criticized the government for only being willing to expand the minimum-pay 'Safe Freight Rate' system for three more years, as opposed to making it permanent and expanding its application, as demanded by the union.
The export-dependent economy, Asia's fourth-largest, already faces slower-than-anticipated growth next year, with the central bank lowering its 2023 growth prediction for South Korea from 2.1% to 1.7%.
The transport ministry reported that container traffic at ports fell to 7.6% of usual levels at 5 p.m. local time (0800 GMT) on Sunday, down from 17% of normal levels in the morning.
According to two industry insiders who spoke on the condition of anonymity because they were not authorized to discuss the topic with the media, POSCO and Hyundai Steel's exports decreased by at least 5 percent last week compared to normal levels.
This week, gas stations may run out of fuel and kerosene, particularly in large cities. While stations obtained supplies prior to the strike, over 80% of truckers for major refiners such as SK Innovation's SK Energy and S-Oil Corp are union members on strike.
In the construction business, ready-mix concrete work has been suspended at 259 of 459 sites nationwide since last week, and nearly all sites are anticipated to run out of concrete by Tuesday, according to Yonhap news agency, citing anonymous concrete industry sources.
As of Saturday, the cement sector anticipated an accumulated output loss of approximately 46.4 billion won (US$35 million), with exports down to 9% of normal levels, according to the Korea Cement Association.
"Non-union bulk cement truck operators who tacitly sympathize with or fear the cargo union's illegal operations are abandoning the industry," the association stated in a statement.