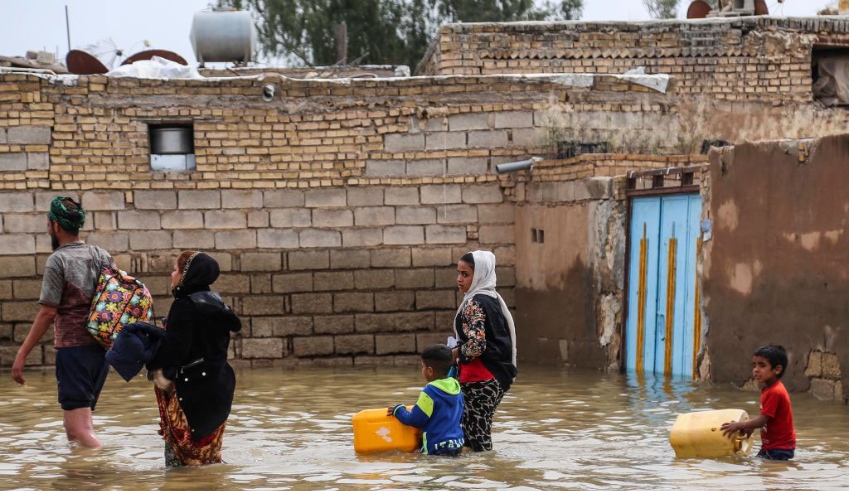 Heavy rainfall in the mostly desert southern region of Iran has resulted in flooding, state television said Saturday, killing at least 21 people and leaving others missing on July 23.
Hossein Darvishi, the provincial head of the Red Crescent Society, was quoted on state TV as stating, "Twenty-one people were murdered, and two are still missing" in the floods that hit numerous towns in and around Estahban county in the southern province of Fars.
Local media and social media shared videos of cars being swept away by the Roodball River as their occupants struggled to escape with their children.
According to state news agency IRNA, Estahban County Governor Yousef Kargar reported that "around 5 pm yesterday, severe rainfall… in the central sections of Estahban County led to flooding."
Located to the east of the province capital Shiraz is the city of Estahban.
This tragedy occurred on a hot summer weekend in Iran, when many people travel to the country's many rivers, lakes, and valleys in search of cooler temperatures.
As the water level rose, "a lot of local people and sightseers (from other areas) who had gone to the riverfront and were present in the river bed were caught in the flood," Kargar said.
Over the past decade, Iran has suffered from severe droughts and frequent floods, the latter of which are exacerbated by the fact that they occur when torrential rain falls on the sun-baked ground.
Images published by the Iranian Red Crescent Society showed rescue workers navigating dry, broken dirt and others toiling in a sea of reeds.
Related Posts
At least 76 people perished and over $2 billion in damage was incurred due to significant flooding in the south of the country in 2019.
As severe rains swept over southern Iran in January, at least eight lives were lost due to flash floods in the province of Fars.
Droughts and the possibility for increasing severity of rain storms are two examples of extreme weather that scientists claim are exacerbated by climate change.
Iran, like many neighboring nations, has experienced years of drought and record-breaking heat. Scientists predict that this trend will only increase.
Demonstrations have taken place in recent months in Iran, mainly in the country's central and southwestern regions, in response to the drying up of rivers.
Tens of thousands of people protested the drought and blamed government officials for diverting water last November in the dry riverbed of the Zayandeh Rood river that runs through the country's center city of Isfahan.
Police reported 67 arrests and the use of tear gas in response to the violent protest.
Official Iranian media said last week that police had arrested many suspects for breaching security after demonstrators gathered to protest the disappearance of a lake that was previously considered to be the largest in the Middle East.
According to the United Nations Environment Programme, Lake Urmia, located in the mountains of northwest Iran, has been steadily diminishing since 1995 due to a combination of extended drought and the extraction of water for farming and dams.
Despite severe drought, 12 individuals in neighboring Iraq were killed in flash floods in December.