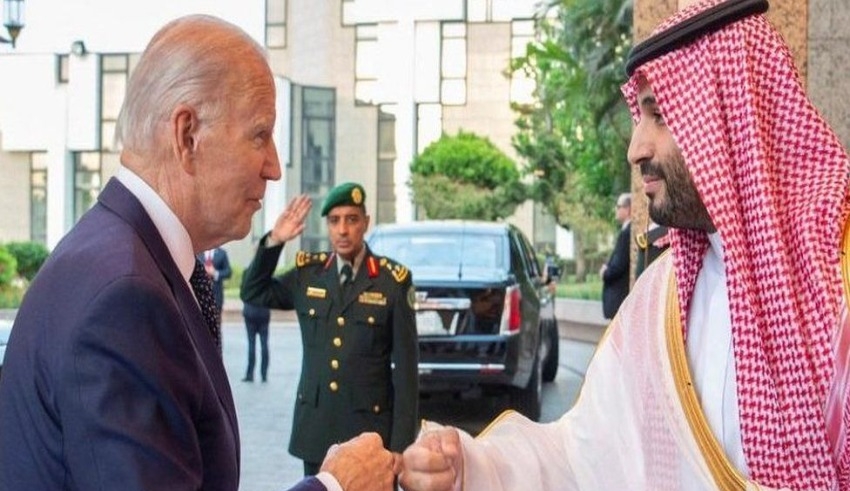 US: President Joe Biden and Saudi Crown Prince Mohammed bin Salman gave each other a fist bump to try to heal their strained relationship, the US leader left the country on Saturday (July 16) with little tangible evidence that the trip had been worthwhile.
His first journey to the Middle East as president, President Biden's four-day visit to Israel and Saudi Arabia sought to restore relations with the Gulf Arab oil superpower, reaffirm US commitment to the area and counteract the growing influence of Iran.
But the Saudi leg was clouded by tricky optics as Biden avoided appearing to embrace a crown prince implicated by US intelligence in the grisly 2018 murder of Washington Post columnist Jamal Khashoggi, an allegation Saudi authorities deny.
President Joe Biden says he confronted Prince Mohammed, aka MbS, for the murders. MbS was unfazed, telling Biden that the United States had made mistakes as well.
As a result of Biden's journey to the Middle East, he didn't come away with a guarantee from Saudi Arabia or public backing for US efforts to build a regional security axis that includes Israel.
The photo of President Biden shaking hands with Saudi Crown Prince Mohammed bin Salman in front of Jeddah's royal palace will go down in history, but the moment had been planned for months. When it came to rewarding MbS with a visit, White House officials were divided and agonized over how it would appear.
Related Posts
Because of their 80-year relationship with Saudi Arabia, the United States and Saudi Arabia chose to keep their strategic ties in place.
A UN-brokered truce in Yemen, a major triumph for President Biden, was one among several crucial moves taken by Riyadh in preparation for Biden's visit. OPEC+ oil output increases were also accelerated as a result of this agreement.
"Nine Arab leaders' summits and support for Yemen's truce are two notable achievements. However, the fist bump has been sacrificed in order to achieve these successes," said Bruce Riedel, a Brookings Institution foreign policy fellow.
At the invitation of President Joe Biden, the OPEC heavyweight Saudi Arabia increased oil production in an attempt to persuade the kingdom to abandon its approach of acting unilaterally and instead working in concert with its allies in OPEC+.
Inflation in the United States and around the world has risen sharply, lowering Joe Biden's poll scores as he prepares for November's important congressional elections.
However the administration is convinced that its efforts in diplomacy will help shape the discussion when OPEC+ members gather again.
"The Aug. 3 OPEC+ summit has everyone's attention. They will use OPEC+ if Saudi Arabia and the United Arab Emirates desire to increase output. However, it's important to remember that demand is waning. According to these countries, I'm not sure there is a need for additional crude supply on the market," One of the Center for Strategic and International Studies' energy analysts, Ben Cahill, said this.
When Saudi Arabia announced that it would open its airspace to all airlines, it paved the way for more flights to and from Israel as a result of the visit.
Israel, Egypt, and Saudi Arabia also agreed on a settlement mediated by the United States, in which a small international peacekeeping contingent commanded by the United States would leave the strategically important island of Tiran, which Cairo had handed over to Riyadh in 2017.
It is hoped that the meeting and other recent events would provide Israel the impetus it needs to become more fully integrated into the region, including with Saudi Arabia.
Any hopes of an immediate rapprochement between Israel and Saudi Arabia were dashed by Saudi Foreign Minister Adel al-Jubeir. That Riyadh was not involved in any discussions about a Gulf-Israeli defense cooperation to oppose Iran, he stated.
It was a show of solidarity by long-divided partners on Thursday when the US and Israel inked an unified promise to deny Iran nuclear weapons. To bolster US efforts to resuscitate a 2015 nuclear accord with Iran, President Biden issued the statement.
As a result of Donald Trump's decision to pull out of the nuclear agreement that had been negotiated under the administration of former President Barack Obama, Saudi Arabia and Israel were ecstatic.
The United States would use force as a last resort in the event that negotiations fail and Iran maintains its nuclear weapons program, President Joe Biden has said. Denies having a nuclear weapons program.
In light of Iran's missile development and proxies in the Middle East, Saudi Arabia and the United Arab Emirates are concerned.