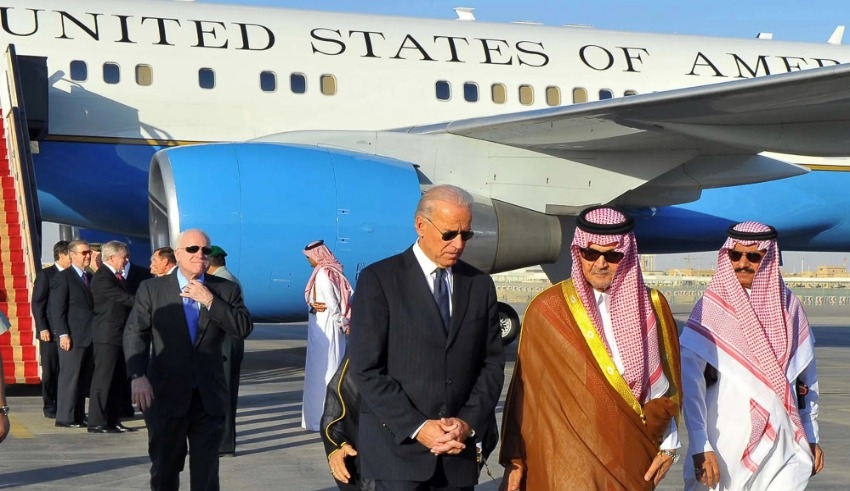 US: Asked about his upcoming trip to Saudi Arabia, US President Joe Biden said he wants to "strengthen our strategic cooperation," but also reiterated his commitment to "basic American principles."
"Many people think I made a mistake by going to Saudi Arabia. Fundamental freedoms are always on my agenda when I travel, as they will be on this trip. My views on human rights are well-known and well-established," On Saturday, President Biden penned an opinion piece for The Washington Post.
Even though Biden is anticipated to push Saudi Arabia to increase oil output in an effort to curb rising fuel prices and inflation at home, his travel represents a shift: An apparent abandonment of efforts to ostracize Crown Prince Mohammed bin Salman following the murder of a dissident.
He called Saudi Arabia a "pariah" during his 2016 presidential campaign because of the killing and mutilation of Jamal Khashoggi, a Saudi-born American journalist known for writing critical pieces about the kingdom's leadership for The Washington Post.
According to US intelligence reports made public by the Biden administration, the operation's mastermind was Prince Mohammed bin Salman, a.k.a. MBS.
He had previously sought to separate himself from the meeting, stressing to reporters that King Salman and his team were on their way..
In fact, earlier this week, the White House announced that he will meet with MBS as part of the broader delegation on the trip.
"As president, it is my responsibility to ensure that our country remains strong and secure," Biden wrote in the Washington Post on Saturday.
Related Posts
Russia's aggressiveness must be countered, our competitiveness must be improved, and greater stability must be achieved in a critical region of the world, he said.
"To accomplish these goals, we must engage directly with countries that can have an impact on them. For example, one of these countries is Saudi Arabia. My objective is to expand our strategic engagement with Saudi officials this Friday in order to maintain our commitment to American principles while also working to advance our shared interests and responsibilities."
Aside from Israel and the West Bank, President Joe Biden will also travel to Jordan and Egypt during his July 13-16 Mideast tour.
He described the region as "more stable and secure" than it had been when he became the presidency of the United States in January 2021, pointing to improved relations between Israel and a number of Arab countries as evidence of this.
This is a positive development and one that only the United States of America can help to strengthen, according to President Joe Biden.
He also brought up the 2015 nuclear agreement between Iran and the international powers, which his predecessor Donald Trump had abandoned three years earlier.
"When Iran is ready to return to compliance with the 2015 nuclear deal, my administration will continue to escalate diplomatic and economic pressure. This is something I am fully prepared to accomplish."