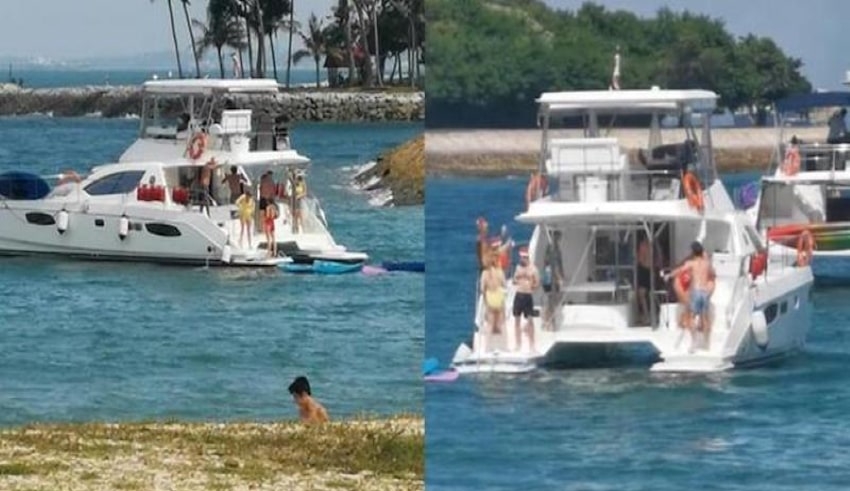 Eight British nationals were fined S$3,000 each today for violating Covid-19 protocols while partying with two more individuals on a yacht near Lazarus Island during the Boxing Day last year. District Judge Jasvender Kaur told the court that those who displays negligence against the rules imposed in containing the virus should be punished accordingly.
The other two, a couple and is living together who were with them got fined with the same amount. Although all of them were working and living in Singapore at the time, there were no indications on the court documents as to what their occupations are or if their work permit will get denied.
Related Posts
Videos of the yacht party have been recorded and went viral on social media. The eight foreigners pleaded guilty for going over the maximum number of people permitted by the authorities. By the time of the incident which is held on December 26 of last year, Singapore is in its second phase of reopening where only up to five people are allowed on gatherings in order to put safety protocols in place as to prevent the spread of the virus.
The yacht master have given briefings before departing and noted that they should stay in two groups, not mingle and wear a mask whenever they are not eating or drinking. However, during the gathering, the groups intermingled, and did not wear face masks at times.
Lawyer Terence Tan who is the lawyer who represented the 10 foreigners showed that Hunt, one of the foreigners involved initially wanted to charter the yacht for five people but later the booking agent that was in contact said that Advant was permitted to hold up to 10 guests such that it has submitted safe-management proposal to the authorities.
Even so, Tan also said that his clients have admitted that they have been intermingling with the others and violated physical distancing protocols. For breaching the Covid-19 (Temporary Measures) (Control Order) Regulations 2020, they could have been jailed up to six months or fined up to S$10,000, or both