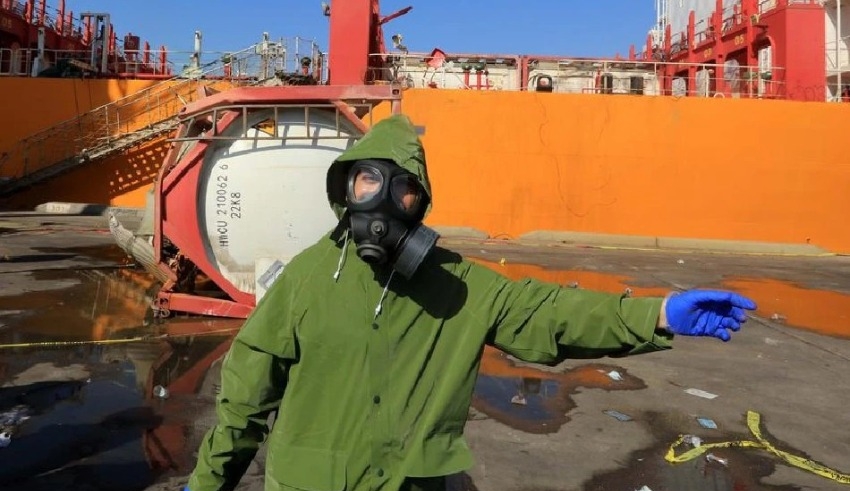 JORDAN: Jordan's emergency assistance coordinating agency announced late Monday that the deadly gas that leaked from a container near Aqaba, killing at least 12 people and wounding 260 others, was chlorine.
One of the surrounding CCTV cameras captured the container being transported by a crane before it dropped and released a cloud of yellow gaseous material into the port, which was then shown by state-owned al-Mamlaka TV. After the container fell, the video showed people fleeing.
As of 4:15pm on Monday, the National Center for Security and Crisis Management (NSCM) issued a statement stating that an incident had happened in the port of Aqaba owing to the fall and explosion of a tank storing chlorine gas (NCSCM).
Jordan's Civil Defense sent a hazardous materials team to the location, a representative for the PSD said. The Jordanian Civil Defense issued a statement saying that the area had been quarantined.
According to Jordan's media minister Faisal Shboul, the hazardous leak had been brought "under control" and no longer presented any risk by Monday evening local time.
Related Posts
The scene was disinfected and roped off to prevent further injuries, Shboul said.
Teams in hazmat suits were seen at the scene of the incident, as shown by Jordan's state television.
At least eight of the victims killed were Jordanians; the rest were of various nationalities, the ministry said.
There are currently 123 injured people being treated in hospitals. According to the country's Public Security Directorate, 45 of them are members of the Public Security Directorate, Civil Defense, and Gendarmerie Cadres First Responders.
Jordanian state television cited the head of the Aqaba Health Directorate, Jamal Obeidat, as saying that nearby hospitals treating the injured had reached full capacity.
It was reported by al-Mamlaka TV that Obeidat stated that field hospitals will be sent and ordered Aqaba residents to stay inside and close all of their windows.
Assisting in the evacuation effort were a number of helicopters and planes.
Aqaba is a popular Red Sea vacation destination. According to Tourism Commissioner Nidal Al Magali, the gas diffusion had a limited impact due to moderate winds, which has scared many tourists.