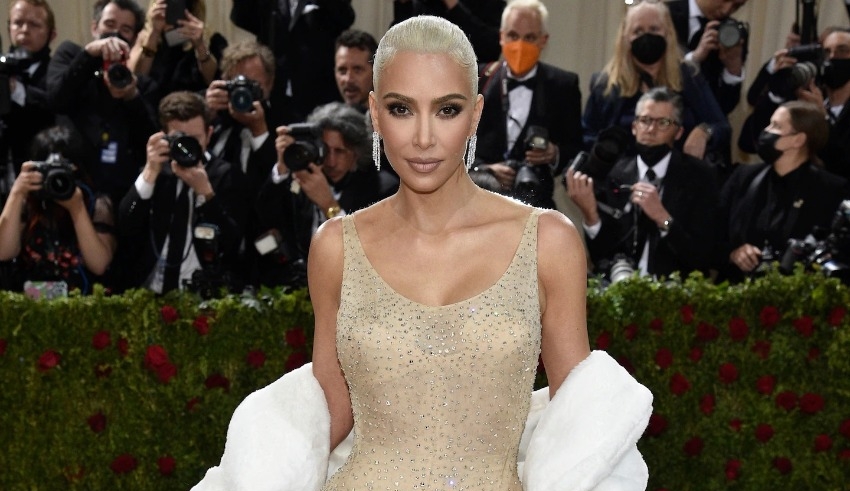 CALIFORNIA: Kim Kardashian wore Marilyn Monroe's legendary gown down the Met Gala red carpet in 2022. Pictures and videos of Kim's fitting surfaced online soon after the Met which caused netizens to accuse her of ruining the gown.
Kim Kardashian, on the other hand, did not ruin Marilyn Monroe's gown.
This answer is said by Ripley's, which owns Monroe's gown and lent it to Kim Kardashian for the event last May. Ripley goes on to say that Kim did not ruin the garment in any way during her brief appearance at the Met Gala.
Amanda Joiner, Ripley's vice president of publishing and licensing, accompanied the dress on its voyage from Florida to New York and while Kardashian was wearing it.
The garment had "a lot of the seams split and worn" and "puckering at the back by the hooks and eyes" when Ripley's bought it at auction a few years ago.
Monroe made the gilded gown famous when she wore it to sing "Happy Birthday" to US President John F. Kennedy. The garment, which was designed years ago by Hollywood designer Jean Louis with the help of Bob Mackie, was lent to Kardashian for the Met Gala on the condition that no alterations be made. Kardashian posed for red carpet shots in the dress for a few minutes before changing into a copy for the rest of the event.
Related Posts
Kardashian's decision to wear the item drew immediate condemnation from heritage industry organizations, including the International Council of Museums (ICOM).
ICOM said that nobody, official or private figures, should wear historic clothing. They added that as museum specialists, they strongly advise all museums to refrain from lending historic clothing for wear because they are artifacts of the time's material culture and must be preserved for future generations.
Although Monroe's dress belongs to a private collection, ICOM stands firm with their statement, saying that regardless of whose institution has custody of the property, the heritage must be regarded as belonging to humanity.
The gown is presently on display at Ripley's "Believe It or Not!" in New York City, located in Hollywood until the fall.