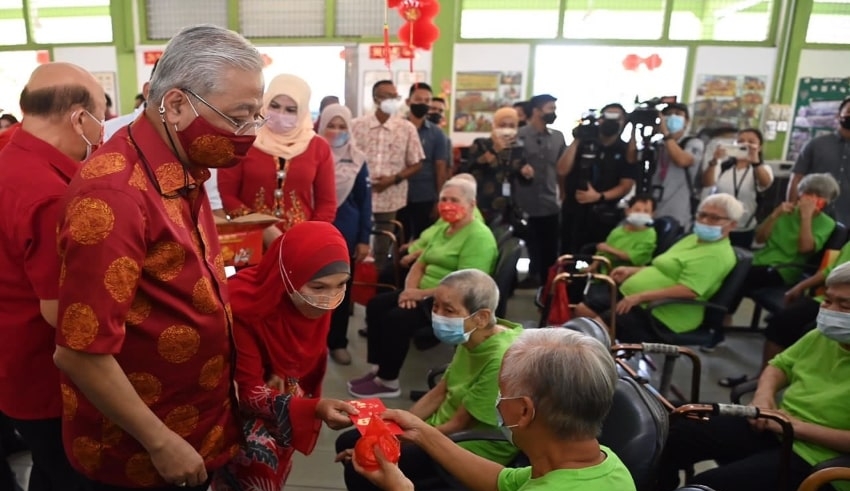 (C) Ismail Sabri Yaakob / Twitter
Malaysia – Prime Minister Datuk Seri Ismail Sabri Yaakob gave his first Chinese New Year address, expressing hope for prosperity as his administration strives to restore the nation's economy, which has been hammered by a two-year struggle with Covid-19.
In his address, Ismail Sabri expressed the hope that this year's celebration will be meaningful, as many families have been forced to remain apart due to travel restrictions.
"Based on the reopening of more than 90% of commercial sectors and most social activities, the Malaysian economy is on the right route toward recovery," he stated.
"High vaccination rates aided the recovery, with practically the entire population having been immunized. With the recovery in full swing, the gross domestic product is expected to expand at a rate of 5.5 percent to 6.5 percent in 2022."
The media were given access to the text of his speech.
Ismail Sabri went on to say that the economy is growing at a rate of 6.0 percent, as predicted by the International Monetary Fund, and 5.8 percent by the World Bank.
The growing Budget 2022, valued RM332.1 billion, and the normalisation of economic and social activities, he added, will be the key drivers of growth.
Sambutan Tahun Baharu Cina di Wisma MCA. Ramai yang datang, tidak mengira kaum dan agama.

Inilah Keluarga Malaysia. Bersatu hati ketika susah dan senang.

Nikmat yang kita kecapi hari ini adalah hasil kestabilan yang wujud dari kebersamaan mengharungi badai sejak dahulu lagi. pic.twitter.com/TOYT1yq6bx

— Ismail Sabri (@IsmailSabri60) February 1, 2022
"The restart of high-multiplier projects, as well as robust external demand, particularly from key trade partners, encouraged economic development."
"All of this is in keeping with the government's goal in the 12th Malaysia Plan, which is to reach high-income status by 2025 through a variety of programs," he said.
Related Posts
To avoid the spread of the coronavirus, he further warned the public to always follow normal operating practices.
In the previous week, the number of new Covid-19 cases in Malaysia has fluctuated between 5,000 and 6,000.
Booster Covid-19 vaccination doses are presently being distributed around the country, with children aged five to twelve receiving their first shots in February.