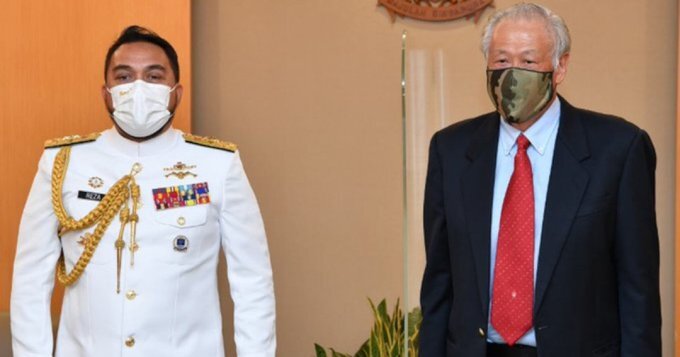 Malaysia – Admiral Tan Sri Mohd Reza Mohd Sany, who is the navy chief of Malaysia, paid a courtesy call on Singapore's Minister of Defence, Ng Eng Hen, at the Ministry of Defence (Mindef) during his introductory visit to the state.
Ng and Mohd Reza reiterated the significance of strong connections between the Republic of Singapore Navy (RSN) and the Royal Malaysian Navy (RMN) during their meeting, and addressed defense cooperation amid the region's mutual security issues.
After their inspection of the Guard of Honour, Mohd Reza also met with Chief of Defence Force Lieutenant-General Melvyn Ong and Chief of Navy Rear-Admiral Aaron Beng, as stated on the post from the ministry's website.
Mohd Reza is scheduled to have an introductory visit to Singapore starting from November 21 to November 23, 2021, according to Mindef.
The Singapore's Defense Ministry said that he was welcomed at the Littoral Mission Vessel (LMV) Simulator Centre (SIMCEN), RSS Daring where he paid a visit to the Tuas Naval Base, and on board the Independence-class LMV RSS Justice, as part of the programme for him.
Related Posts
The state sid that the intoductory visit of Mohd Reza to Singapore highlights the cordial and long-standing bilateral defense ties and strong relationship between the island city-stateand Malaysia.
"The RSN and RMN communicate on a regular basis through bilateral exercises, visits, professional exchanges, cross-course attendance, as well as multilateral venues such as the Five Power Defence Arrangements (FPDA) and the Asean Defence Ministers' Meeting (ADMM) and ADMM-Plus," the statement stated.
It was noted by Mindef that through the Melaka Straits Patrol, both the Singapore and Malaysia's navies continue to collaborate such that the regional maritime security would be improved.
It said that "these exchanges and interaction between the two nation have increased mutual understanding and professional connections amongst the personnel of both navies."