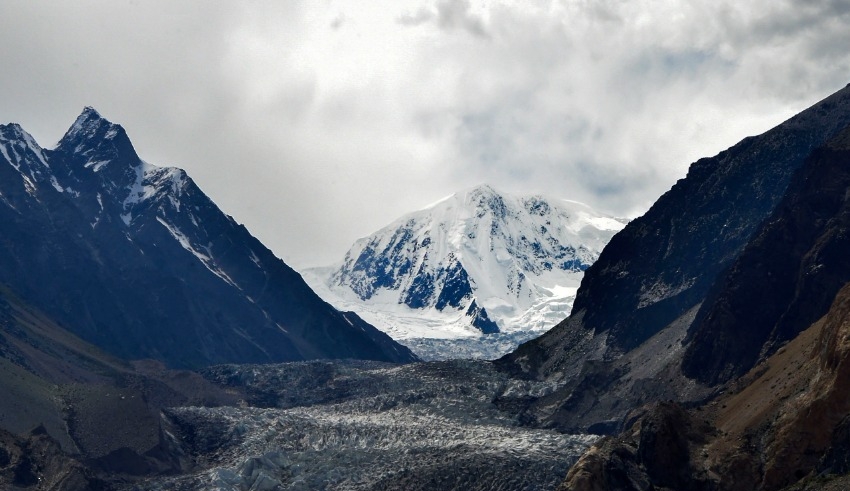 PAKISTAN: Javed Rahi's Pakistani mountain village awoke to a tremendous boom and a torrent of water from the melting glacier nearby, accompanied by a dense cloud of smoke, as the sun rose over the horizon.
It was the day before his nephew's wedding that Rahi, a retired math teacher, was supposed to travel to Hassanabad to attend it.
In May, a heatwave raced across South Asia, causing a flood that swept away nine homes and damaged half a dozen more.
Two modest hydroelectric facilities and a bridge linking the isolated village to the outside world were also destroyed by the floodwaters.
In Pakistan, there are about 7,000 glaciers, more than any other country in the world except from the arctic regions.
The fast melting of glaciers due to climate change is resulting in thousands of new glacial lakes.
33 of these lakes, all located in the Himalayas, Hindu Kush, and Karakoram mountain ranges, are at risk of bursting and unleashing millions of cubic meters of water, like in Hassanabad, in a matter of hours, according to the Pakistani government.
The Pakistani government warned earlier this week that at least 16 such glacial lake outburst floods connected to heatwaves have already happened this year, compared to an average of five or six every year.
To recover from catastrophic catastrophes is a difficult task for affected areas.
Rahi and other residents of Hassanabad who lost their homes had to relocate to a nearby camp for displaced people following the disaster.
According to the Germanwatch Global Climate Risk Index, Pakistan is the seventh most vulnerable country in the world to climate change-related extreme weather.
There have already been heat waves reaching 50 degrees Celsius this year earlier, hotter, and more frequently than ever before.
Thousands of people have been killed and displaced by recent floods and droughts, which have also wrecked infrastructure and destroyed livelihoods.
A paucity of data on glacial changes in Pakistan makes it impossible to anticipate problems that may arise as a result of them, according to the United Nations Development Programme.
In spite of the presence of an early warning system, Hassanabad's people believed they were high enough above the sea to avert any harm, according to local officials.
According to Hassanabad flood victim Zahida Sher, the water's strength destroyed previously thought-to-be-safe structures.
Related Posts
The livestock, orchards, farms, and tourists that mountain communities are so reliant on are all at risk from climate change, which is already wreaking havoc on them.
According to Sher, an NGO researcher, "Our economy is agricultural and people lack the resources to migrate from here."
Seven million people in the northern part of Pakistan are at risk from natural disasters, according to Siddique Ullah Baig, a disaster risk reduction specialist.
"Even in locations designated as "red zones" for floods, people are building new homes. There is a lack of awareness and preparedness among our employees in the event of a calamity," AFP spoke to him about it.
Passu, a little hamlet north of Hassanabad, has already lost 70 percent of its population and land due to flooding and natural river erosion. Passu is a fragile community.
Hunza River, White glacier, and Batura glacier are all known as "dragons" because of their destructive strength, and the settlement is situated in the middle of all three.
When asked about the village's location, resident Ali Qurban Mughani pointed to the massive blocks of ice that tower over Passu.
In an effort to preserve the community from further erosion, workers were building a concrete wall along the riverside at the time of his speech.
Kamran Iqbal used money he borrowed from a local non-governmental organization (NGO) to build a picnic area with a stunning view for tourists.
The region's glaciers have made it one of the most popular tourist sites in the country.
Until "horror night" last year, when Iqbal's investment was swept away by a sudden flood, business was booming for him.
More than one-third of Pakistan's glaciers could melt even if the world's most ambitious climate goals of keeping global warming below 1.5 degrees Celsius are met by the end of this century, a 2019 study by the International Centre for Integrated Mountain Development found.
"We may have to deal with frequent and intense riverine flooding, and of course flash floods," said Aisha Khan, head of the Mountain and Glacier Protection Organization, which studies Pakistan's glaciers. "By 2040, we could be facing problems of (water) scarcity that could lead to drought and desertification."
According to Pakistan's government, the country's emissions account for less than one percent of global totals.
Yet it remains extremely vulnerable to the effects of climate change, as it is dependent on sectors such as agriculture and natural resources that are sensitive to climate change.
"There are no polluting plants or enterprises in this area… We live in a hygienic place," Village elder Amanullah Khan, who has lived in Passu for the past 60 years, agreed.
It is only when it comes to climate change, however, that our country is at the forefront.
Mountain people are increasingly concerned about the dangers posed by glaciers according to Asif Sakhi, a political leader from Passu.