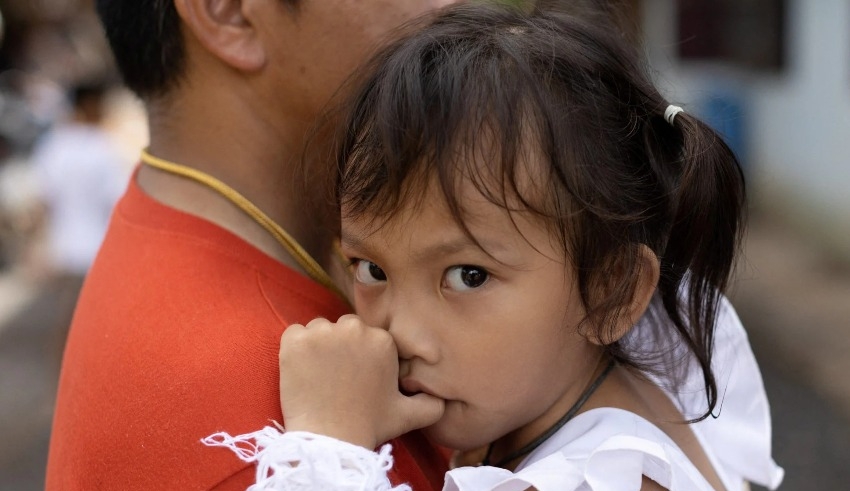 A three-year-old child who survived last week's atrocity at a kindergarten in northeast Thailand slept through the carnage under a blanket in a classroom corner.
Paveenut Supolwong, also known as "Ammy," is typically a light sleeper; nevertheless, on Thursday, October 6, when the killer entered the nursery and murdered 22 children, Ammy was fast sleeping with the blanket covering her face, according to her parents.
This probably saved her life.
She was the only child in the nursery to escape unharmed after former police officer Panya Khamrap murdered more than 30 people in the town of Uthai Sawan, the majority of whom were children in the nursery.
Panompai Sithong, Ammy's mother, stated, "I'm in shock. I have compassion for other families… I am thankful that my child survived. It's a mixture of grief and appreciation."
On Sunday, October 9, relatives and neighbors gathered at the family's wooden home to eat fish, papaya salad, and ruminate on the tragedy.
They alternated between astonishment and gap-toothed smiles as they fussed over Ammy as she played in the yard in a flowery dress with an amulet around her neck, bewildered by all the unexpected attention.
According to Ammy's parents, she has no memory of the catastrophe. After the murderer had fled, someone saw her stirring in a far corner of the classroom and brought her out with her head covered by a blanket so she would not see the remains of her classmates.
11 of the 22 students stabbed to death reportedly perished in the classroom where she was napping. Two additional youngsters were hospitalized with severe head injuries.
Keep Reading
On Sunday afternoon, the family sat in a circle while a religious leader read from a Sanskrit prayer book and presided over a Buddhist ceremony for children who have endured traumatic events.
Ammy patiently sat on her mother's lap, observing her surroundings with shy, large eyes and fiddling with two candles she held.
Relatives sprayed each other with rice wine poured from a silver basin and exchanged well-wishes.
They tied white threads to Ammy's little wrists for good luck, pinching her cheeks and uttering blessings.
It was a rare moment of happiness in a town beset by tragedy.
In a two-hour spree, in addition to the carnage at the nursery, Panya slammed his pickup truck into pedestrians and shot at neighbors. Ultimately, he murdered his cohabitant, her son, and himself.
Few members of the close-knit community remain unscathed.
On Sunday morning, family of the victims began gathering at the temples where the corpses are being stored. They brought food, milk, and toys for the souls of the deceased, in accordance with local customs.
Later in the day, they participated in a Buddhist ritual at the nursery, where mourners have left more gifts and white floral wreaths.
Ammy's mother stated at home that she felt spirits had protected her daughter.
"My baby is not a deep sleeper," Panompai added. "I feel some spirits must be hiding her eyes and ears. We hold differing views, but I believe it protected my child."
Ammy's survival, according to an additional relative, was a "miracle."
However, her family had to inform her that her cherished best friend, two-year-old Techin, and her teacher had died.
Panompai stated, "She asked her grandmother, 'Why don't you pick up Techin from school?'"
She does not yet comprehend the full scope of the horror she has experienced.