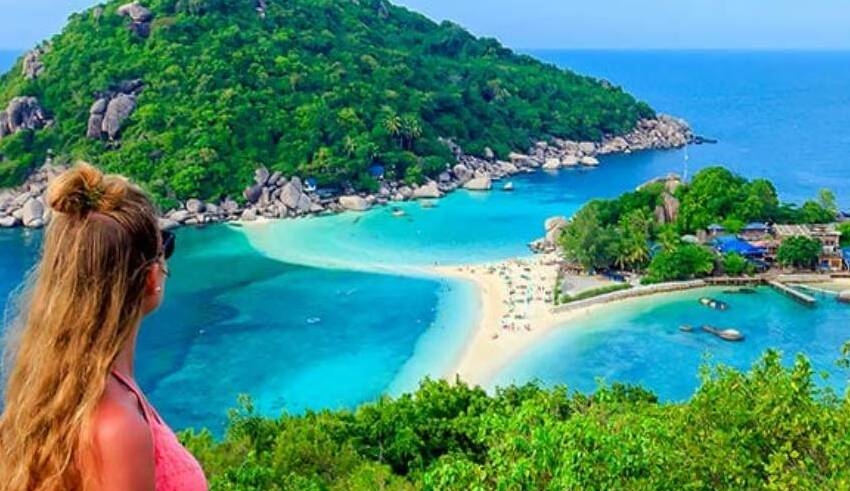 On the fast ferry from one of Thailand's biggest islands, Koh Samui, to its smaller neighbor, Koh Tao, which is known for cheap scuba diving and snorkeling and beautiful beaches and bays, it felt like old times.
The double-decker catamaran was almost full. Backpacks and roller bags were piled up in the bow and main cabin as the boat with more than 300 seats cut through the sparkling blue sea. And when the mostly white, mostly European travelers, many of whom were families, crowded onto Koh Tao's weathered wooden pier one afternoon in late August, it was full of people waiting to board under a long blue canopy.
But it's not always what it seems. Tourism has been slow to come back on Koh Tao, as it has been in most of Thailand and Southeast Asia. People were waiting at the dock for the afternoon ferry, but in August, there was only one catamaran company instead of the usual three, with fewer boats. Behind all the signs for diving schools, snorkeling tours, and motorbike rentals, there were a lot of empty or closed storefronts.
In Europe and North America, travel started coming back as early as 2021. But in most of the region, foreign visitors didn't start coming back until the spring of this year, when countries like the Philippines, Vietnam, Malaysia, and Indonesia stopped quarantining them.
Thailand got rid of the last "Thai Pass" restrictions and registrations in July. This year, the government wants 10 million visitors, which is a lot but only a quarter of the 2019 record. The industry won't come close to that peak until China, which was responsible for a quarter of foreign arrivals before Covid, gets rid of its strict zero-Covid rules and lets its people travel again.
In the meantime, tourists on the three-island circuit of Koh Samui, Koh Phangan, and Koh Tao in the Gulf of Thailand could still enjoy the clearer water and fish, turtles, and sharks that showed up during the pandemic lull.
In some ways, Koh Samui is a good example of how parts of Thailand and Southeast Asia have changed from pristine and rich landscapes to crowded tourist destinations with all the trappings of Western self-gratification, like sprawling luxury resorts, Hard Rock Cafes, and Hooters.
Keep Reading
It attracts both wealthy people who stay in condos on the mountainside or at Six Senses and cheap travelers who can stay in hostels or cheap hotels for $10 to $25 a night and eat local dishes like chicken and rice or pad Thai for a few dollars. And, like many other places in the area, it was becoming more popular with Chinese tourists before the pandemic. In 2019, about 13 percent of the 2.4 million people who went to Koh Samui were from China.
Once a haven for fishermen and coconut farmers, the 88-square-mile island now has smooth roads that wind over steep hills and offer wide views of the island's curving coastline. On the east coast, Chaweng, Lamai, and Bophut are some of the most popular beaches. But laws limit the height of buildings to 12 meters, or three stories, so the developments are nice and low. Some parts of the south and west of the island, like Talig Ngam and the middle of the island, where waterfalls dot the tropical forest, have kept some of their natural beauty.
Travelers usually start their trip on the island. After relaxing on Koh Samui's beaches and eating at its restaurants, they head to Koh Phangan for a full moon party or a meditation retreat, then take a boat to Koh Tao to dive and snorkel.