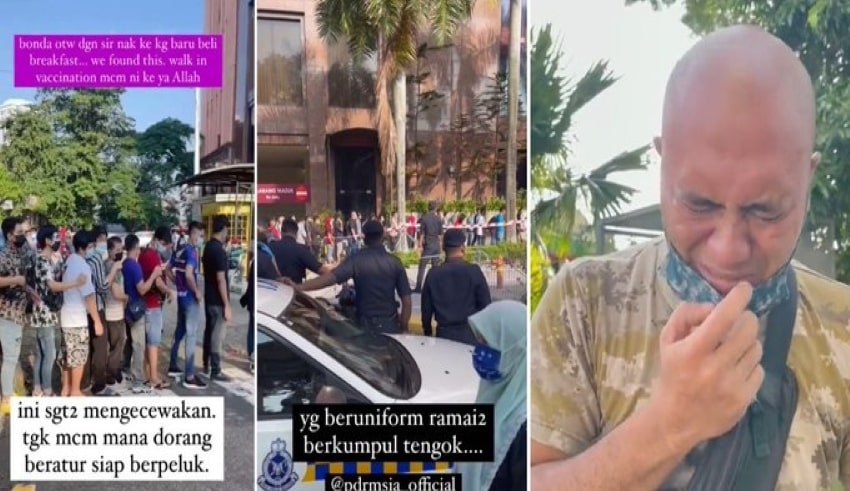 Rumah Prihatin said that a big crowd had assembled at the Grand Seasons Hotel vaccination facility (PPV) after being misled into believing that it provided walk-in vaccination for non-Malaysians.
According to the report, the crowd refused to leave the area even after police requests to do so, leading to a long line of individuals crammed together.
Related Posts
In a statement, it said that it was due to a misconception and news that Rumah Prihatin offers a walk-in inoculation service for non-citizens, while walk-in vaccines for foreigners are available at the Bukit Jalil vaccination center (PPV). As a result, an unforeseen "rush crowd" emerged, beyond management and law enforcement's expectations.
At first, the Rumah Prihatin worked with the Royal Malaysia Police (PDRM) and the Kuala Lumpur City Hall (DBKL) in order to disperse the group, but they refused to leave even after the orders and the warnings given. The problem was resolved with the assistance of PDRM and DBKL.
Rumah Prihatin further said that it exclusively takes in direct vaccination registrations for Malaysian nationals, with priority given to the elderly, persons with disabilities, marginalized groups, as well as vulnerable groups.
According to Dang Wangi Assistant Commissioner of Police (ACP) Noor Delihan Yahaya, the police responded immediately to concerns of congestion at the Grand Seasons Hotel vaccination center (PPV)
In a statement, he claimed that police were sent to the area to handle the crowd until all jabs at the PPV were done, after a video of the incident outside the PPV went viral on social media.
Previously, a seven-minute video caused a stir on social media, showing a huge queue of people crammed together outside the Grand Seasons Hotel PPV, expecting to be let inside for their vaccinations.
Rumah Prihatin @ Grand Seasons, Malaysia's first charity hotel, provide meals, beds, counseling services, and Covid-19 vaccinations to pandemic victims.
It was established in cooperation with the Federal Territories Ministry and the Federal Territories Foundation, as well as the Grand Seasons Hotel, Pulse Grand Hotel, Kuala Lumpur City Hall, and Prihatin Volunteers (PriVo). Since its inception on July 15, it has served over 1,000 visitors and provided almost 10,000 vaccination doses.