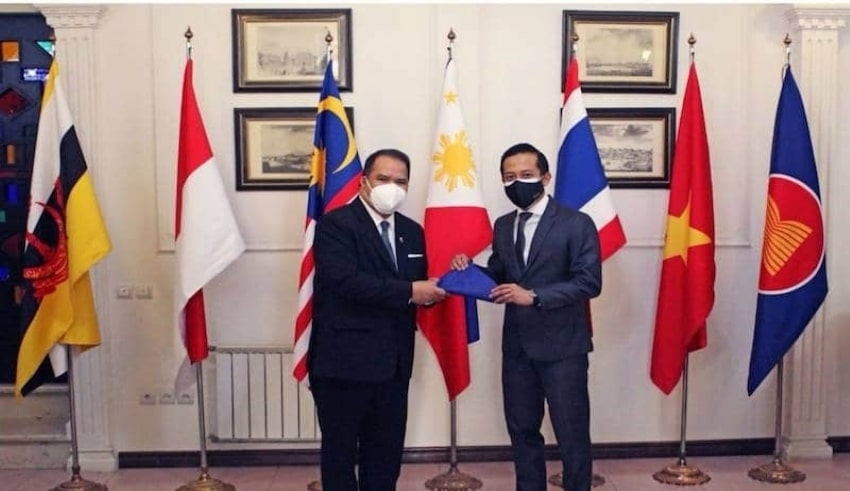 Ambassadors in Iran and Spain of the Philippines have assumed the chairmanship of the Association of Southeast Asian Nations (ASEAN) committees in the respective countries they are currently posted.
Ambassador to the Islamic Republic of Iran Wilfredo Santos assumed the ASEAN Tehran Committee (ATC) chairmanship from the outgoing Chair, former Malaysian Ambassador to Iran Dato' Rustam Yahaya. He was represented by Chargé d'Affaires, a.i., Mohd Nizam bin Halimi of the Embassy of Malaysia, during a simple ceremony held at the Philippine Embassy in Iran on June 7, 2021.
Related Posts
The ACT is one of the 54 ASEAN Committees in Third Countries and International Organisations (ACTCs) that have been fully endorsed and formally established in the national capitals and other key cities around the world with the aim to promote ASEAN's interests and identity in the concerned host countries or international organizations.
It is composed of six ASEAN Member States, namely Brunei Darussalam, Indonesia, Malaysia, Thailand, the Philippines, and Viet Nam. The Philippines will serve as ACT Chairperson for six months.
In attendance during the turnover rites were by ACT Heads of Mission Ambassador Pengiran Abdul Samad HJ Metasan of Brunei Darussalam, Ambassador Ronny Prasetyo Yuliantoro of Indonesia, Ambassador Nguyen Manh Hien of Viet Nam, and Chargé d'Affaires, a.i Wararoj Engsombun of Thailand.
Around 10 members of the ATC Working Group, mostly embassy deputies, were present to witness the event.
In Spain, Philippine Ambassador Philippe J. Lhuillier has formally assumed the chairmanship of the ASEAN Committee in Madrid (ACM) in a ceremony held recently at the Philippine Embassy in Madrid also last week of which the turnover marks the start of the six-month chairmanship of the Philippines.
In his acceptance remarks, Lhuillier expressed his aim of elevating the engagement between ASEAN and Spain through promoting greater awareness and cultural understanding of the ASEAN region among Spanish people and through strengthening the economic ties between Spain and the ASEAN.
The Filipino diplomat also asked for support and cooperation from his counterparts in fulfilling the said goal.