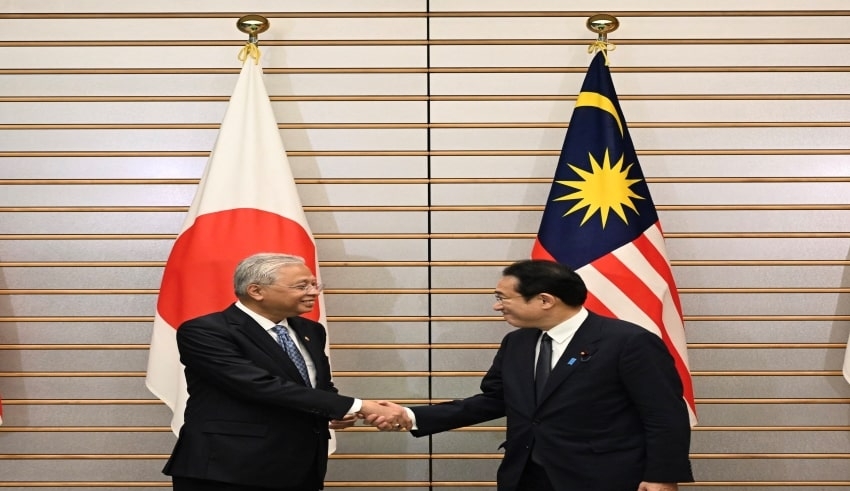 (C) Ismail Sabri Yaakob / Twitter
Asean – Malaysian Prime Minister Datuk Seri Ismail Sabri Yaakob met with his Japanese counterpart Fumio Kishida and recommended that relations between Malaysia and Japan be raised to the level of comprehensive strategic partnership (CSP).
During the meeting that took place at the Kantei, which is the office of the Japanese Prime Minister, Ismail Sabri, who was accompanied by a prominent delegation, conducted bilateral meetings with Kishida to deepen the long-standing connection that exists between Malaysia and Japan.
Since they both took their positions in 2021, this is the first time that Ismail Sabri and Kishida have seen one another in person to discuss bilateral issues.
Saya merakamkan penghargaan atas sumbangan vaksin dan peralatan perubatan dari Jepun ketika negara berdepan cabaran COVID-19.

Saya yakin Malaysia dan Jepun dapat bersama-sama memantapkan hubungan ke tahap perkongsian strategik yang lebih komprehensif (CSP). pic.twitter.com/5xJot3qhkw

— Ismail Sabri (@IsmailSabri60) May 27, 2022
Ismail Sabri and Kishida had already convened the Japan-Malaysia conference by telephone on April 20 of this year. During the conference, the two leaders discussed a variety of problems pertaining to the area as well as the rest of the world.
During the meeting between the two countries, Ismail Sabri made the following statement: "We intend to propose upgrading our connections from strategic partnership to comprehensive strategic partnership."
Related Posts
In 2015, the level of cooperation between Malaysia and Japan was upgraded from enhanced partnership to strategic partnership.
The meeting was held in conjunction with Ismail Sabri's official working visit to Japan, during which he took part in the 27th International Conference on the Future of Asia, an annual gathering of political, economic, and industry leaders from the Asia-Pacific region, as well as met with business and corporate figures in Japan in an effort to entice investments in Malaysia. The purpose of the visit was to promote Malaysia as an investment destination.
Since Kishida was named Prime Minister of Japan in October of the previous year, the occasion was the first time that he had played host to a Malaysian prime minister. This year celebrates the 40th anniversary of the Look East Policy, which has made a significant contribution to developing bilateral relations between Malaysia and Japan. This year also marks the 40th anniversary of the Look East Policy.