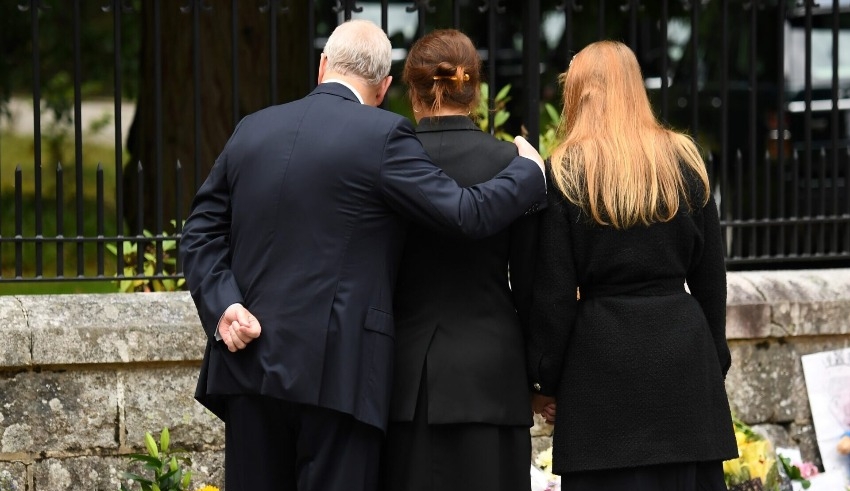 Prince Andrew's allegedly "inappropriate" behavior has once again caused people to raise their eyebrows, despite the fact that he has been ostracized from the Royal Family due to allegations of sexual abuse. This time, one of his own daughters is involved in the scandal.
The third-born child of Queen Elizabeth II has been accused of "groping" his daughter, Princess Eugenie, in a video that has gained widespread attention. The tape was posted online. Daddy and daughter did this while reading tributes placed by royal admirers outside the gates of Balmoral Castle over the weekend. The tributes were left there by royal followers.
On Thursday of last week, the Queen passed away at her Scottish residence, accompanied by members of her immediate family. During the course of the weekend, members of the Royal Family were observed mingling with members of the general public and exchanging pleasantries with them.
Prince Andrew has a history of courting controversy, most notably because to his relationship with the late sex criminal Jeffrey Epstein and allegations that he had sexual encounters with underage girls.
Keep Reading
"Jeffrey Epstein" behavior
A video of Prince Andrew trying to console his crying daughter, Princess Eugenie, went viral on social media. The couple was joined by members of their immediate families, including Princess Beatrice, Andrew's other daughter, and their respective close relatives. After the passing of Queen Elizabeth, the members of the Royal Family gathered together to read letters that had been sent to them.
However, the tender moment took an awkward turn when Prince Andrew stooped down to read a tribute, and his right hand briefly grazed over the bottom of Eugenie while he was doing so.
After what had just taken place, Eugenie in the video seemed to have "frozen" her facial expressions.