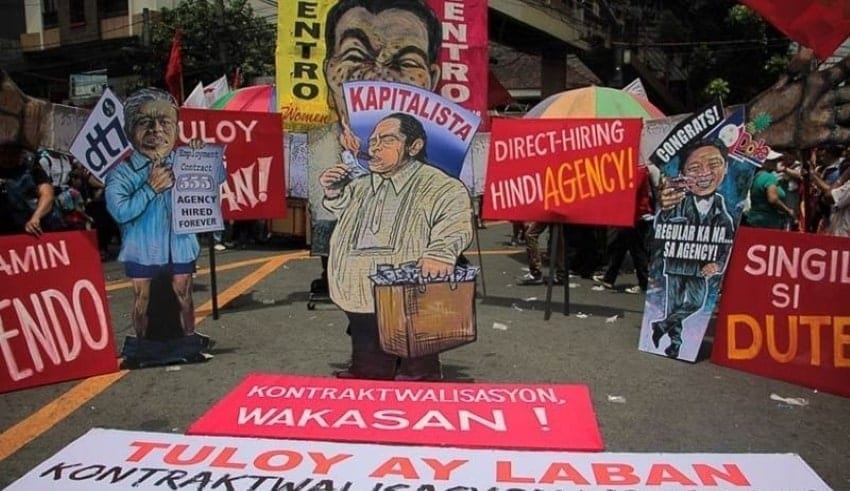 The House of Representatives passed a bill prohibiting labor-only contracting in the private sector on Tuesday with a vote of 204 in favor, seven against and three abstentions, a move that some legislators said did not entirely prohibit the abusive process of contractualization in the country.
In view of this, The House Bill No. 7036 aims to ban labor-only contracting which, under the following situations, it describes as existing:
In the form of instruments, supplies, machinery, workplaces and others the contractor does not have substantial resources or savings. Next is that the contractor has no power over the procedures and means of the staff to do their job. Along with this, the staff hired and employed by the contractor conduct tasks that are closely linked and essential to the employer's main sector.
Under the plan, fixed-term jobs is also banned, with the exception of overseas Filipino personnel, probation workers, involuntary substitutes for missing permanent employees whose obligations do not extend six months, project employees, and seasonal employees.
Consequently, The bill provides that the privileges and benefits of relievers, seasonal and project workers should be at par with permanent staff. In view of this, Rep. France Castro (ACT Teachers Party-list) claimed that this clause simply gives contractualization legal cover.
For them, there is justice in the legitimization of the invention of fake seasons by the government of corporations such as Valentine's season, back-to-school season, and others as a reason not to recruit regular employees.
In the leftist Makabayan bloc in the Chamber, Castro and her other colleagues have pointed out that the amendment, which shifts the concept of a daily worker from someone who is usually necessary or desirable to someone who is directly related and necessary to a corporation, is unfavorable to contract employees who hope to be regularized.
In reality, the simple shift of criteria has far-reaching effects and dooms the aspirations of millions of contract workers for regularization.
However, House Minority Leader Joseph Stephen Paduano rejected HB 7036 and argued that the Labor Code is a watered down version. A major author of the anti-endo bill that Duterte had vetoed in the previous 17th Congress was the Abang Lingkod lawmaker.
For him, The new bill departs from the old bill's original purpose of banning endo. In my opinion, the latest bill would not fix the labor-only contracting problem.
Morever, compared to the provisions of the Labor Code of the Philippines that specifically stipulate the prohibition of coercive workers' contracts, this substitute bill pales.