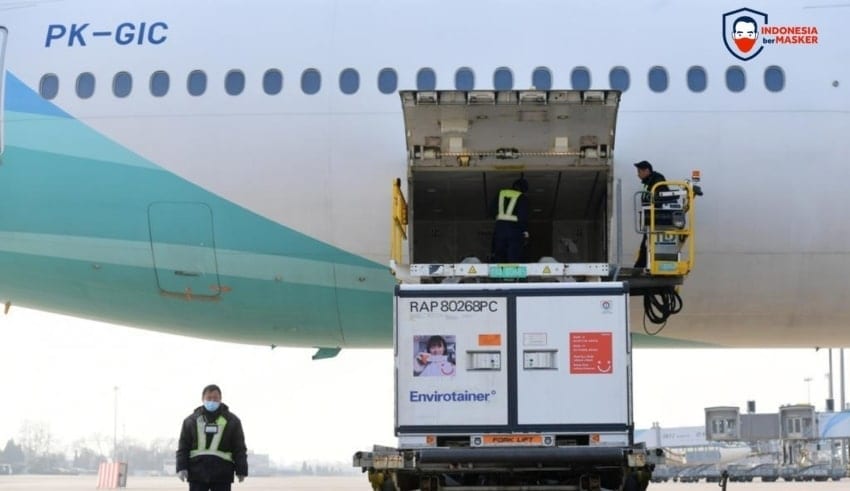 The most anticipated COVID-19 vaccine finally arrived in Jakarta and it was immediately taken to the headquarters of the state-owned pharmaceutical company Bio Farma in Bandung, West Java, where it is now being kept under tight military and police guard.
Indonesia has obtained 1.2 million doses of the CoronaVac vaccine from Sinovac Biotech Ltd, a biopharmaceutical corporation headquartered in Beijing, and another 1.8 million doses are expected to arrive by January 2021.
In addition to the finished vaccine, Indonesia will obtain a lot of materials to manufacture 15 million doses of the vaccine in December of this year and 30 million doses in January of 2021, which PT Bio Farma will have to prepare and study further.
Untuk memulai vaksinasi kita masih memerlukan tahapan yang ketat BPOM. Seluruh prosedur ilmiah harus dilalui dengan baik untuk menjamin kesehatan dan keselamatan masyarakat.

Pertimbangan ilmiah dan hasil akhir uji klinis akan menentukan kapan vaksinasi Covid-19 dapat dilakukan. pic.twitter.com/oVmQpjraUS

— Joko Widodo (@jokowi) December 7, 2020
In close collaboration with the University of Pandjajaran in Bandung, Bio Farma tried the Phase 3 clinical trials of the Sinovac vaccine and the results are something beneficial. In view of this, Health Minister Terawan Putranto stated that the first phase of the procurement of three million doses of the inactivated SARS CoV-2 candidate vaccine was the distribution of the vaccine.
The Ministry of Health has also assured that refrigerated transport vehicles, supplied by Bio Farma to track and maintain the temperature of the vaccine, are in good condition. Before they can be delivered to health offices nationally, the Authority has planned a distribution warehouse and chalked out the cold chain management for 1.2 million doses of Sinovac vaccine.
Airlangga Hartarto, Coordinating Minister for Economic Affairs, who also serves as Chair of the COVID-19 Response and National Economic Recovery (KPC-PEN) Committee, said the government would provide vaccines under two schemes: government-paid and self-paid schemes.
Consequently, This coming third week of December, The jokowi administartion will be ready to give mass vaccinations, and immunization simulations were performed in several locations.
The government, however, will need to ensure the safety that's why they have to wait for the Indonesian Food and Drug Monitoring Agency's (BPOM) emergency-use authorization (EUA) to begin the first phase of the immunization program.