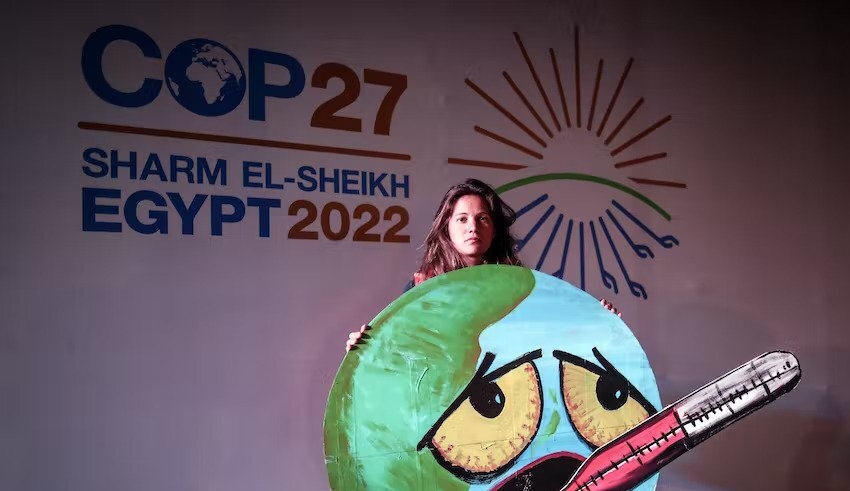 A few days after Severe Tropical Cyclone Paeng almost completely consumed the Philippines, the 27th Conference of the Parties (COP) convened.
The unfolding of these events have a dystopian quality. In Egypt, world leaders, primarily men, gathered for a "family photo" during what appeared to be a brief pause between political maneuvering and unsuccessful negotiations, as our nation reels from the impacts of yet another natural calamity.
In a conversation with another Filipino climate justice activist, she explained how MAPA activists, in the manner of Greta Thunberg, are paraded before the world as beacons of elusive hope. "They want Gretas to inspire them," she replied with indignation, "but my nation is drowning. They can find their own motivation."
Greta Thunberg herself was conspicuously absent at COP27. Perhaps the act of motivating felt pointless.
I digress. How can one discuss COP27 without recalling how a close friend was displaced when Typhoon Haiyan struck Tacloban, and how her father used a bed frame to create a makeshift bridge into their neighbor's window, narrowly escaping the rising water, a tenuous connection to life in a city that was drowning?
How her sister had rushed in from Manila in the aftermath, expecting to see dead bodies among the mass graves, but instead discovering a family that was alive but forever changed by the agony of climate injustice?
Indeed, how does one discuss COP27?
Keep Reading
Breaking down COP27
As one watches the conference, one gets the impression that climate change is being discussed almost as if it were hypothetical, as if it were a crisis that is impending but not yet upon us, as if it were but one problem on a long list of others that are more pressing and brutal.
At COP27, Filipinos gathered to mark the ninth anniversary of Typhoon Haiyan.
In his remarks, UN Secretary General António Guterres stated that we are "on the road to climatic hell."
In the Philippines, we have arrived.
Compared to global concerns, the realities of environmental activists on the ground are significantly different. The former is seen as a vanguard of several forms of protest and a site of heightened militarism. The latter is, historically speaking, the most perilous location in Asia for climate justice campaigners.
Our movement is working class-led. At times, with only P20 remaining in their pockets, activists would trek to and from meetings, famished, and purchase coffee to stave off hunger. Due to a lack of operational funds and the impending fear of mistreatment, they have been forced to make do with very little.
Nevertheless, the climate movement led by Negros has triumphed over repressive political dynasties and oppressive companies. With the termination of three coal projects in the 1990s and others in recent years, one begins to wonder how and, more importantly, why.
They refer to the island as the renewable energy capital, the hope spot. With enough capacity to power the entirety of Negros, it is the ideal setting for staging a just transition, serving as a model for the entire nation. Ironically, however, this capacity remains dormant.
The renewable energy industry imports filthy energy.
Perhaps the greatest explanation for why is that there are only two options left: simply transition or death.
World leaders are fond of employing statistics to elicit emotion, as if we were literary devices rather than individuals, decorations added to assure acclaim, vessels of inspiration. Eight billion lives are threatened. In the middle of the collapse, the floods, and the pounding on our doors — whether by the agents of a repressive regime or the unrelenting whip of another storm — the only place we were afforded at COP27 was within the liminal crevices of numbers, our lived experiences reduced to data.
What is our only hope?
This is why we place our hopes in the will of the people. That is our method. Most recently, the movement prevailed against San Miguel Corporation (SMC) via its subsidiary, Reliance Energy Development Inc. (REDI). Plan for a 300-Megawatt Liquified Natural Gas plant in San Carlos City was challenged by civil society organizations, communities, the church, and youth-led groups clamoring in a variety of strategic venues. After months of preparatory work, on October 15 they withdrew their application for an Environmental Compliance Certificate (ECC), a document required to proceed.
The project has not yet been formally canceled, thus SMC-REDI may seek to apply for an ECC once again. The language of resistance speaks loudly and eloquently, and it was heard, as this victory demonstrates.
World leaders would do well to keep this in mind.
The communities most severely affected by natural catastrophes are those with less social capital and mobility, whose structures cannot resist the ferocity of severe storms. These difficulties are amplified by gender. In order to safeguard their family, women, and mothers in particular, frequently assume risks. These hazardous housing conditions overlap with socioeconomic difficulties, endangering the livelihood of women who have limited financial prospects to begin with, particularly in rural areas.
A few weeks following a typhoon, I've spoken with families who were forced to incur further debt to purchase plywood or who had to eat their own livestock to survive. In evacuation shelters, groups such as the LGBTQ+ community and people with disabilities are forced to face discrimination on top of housing instability and food shortages. Not only do dirty energy sources contribute to global warming, but they also imperil the populations surrounding their facilities by causing health and safety hazards.
Climate justice is fundamentally social justice. The day following our triumph over SMC, we lined the streets with sectors that have been hardest hit by this issue. They carried signs expressing not only anger and sorrow, but also the path forward. Global climate movements have adopted the motto "no more false solutions." We need only turn to the grassroots to locate the genuine individuals.
The climate emergency alarms are blaring, and the time has come for a fair and swift transition to renewable energy. Otherwise, a reduction to 1.5 degrees Celsius is unthinkable. Yet it is a doorway through which we might enter a world emancipated from corporate dominance, injustice, and the myth of economic development, if we cross it with care and justice. It is essential to prioritize these disadvantaged sectors while reimagining entire economies. As a result of their homes, livelihoods, and lifestyles, they are in the forefront of the climate conflict.
If we disregard them, the door will close behind us.