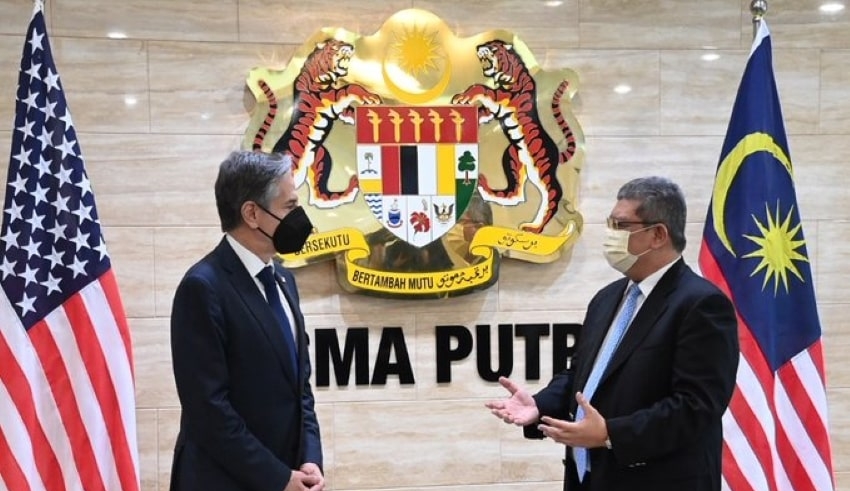 (C) Secretary Antony Blinken / Twitter
Malaysia – Secretary of State Antony J. Blinken of the United States of America (US) landed in Malaysia on Tuesday evening to begin a two-day working visit to the country.
Around 10.30 p.m., the special aircraft transporting Blinken and his 39-member entourage touched down at the Royal Malaysian Air Force (RMAF) base in Subang.
The Chief of Protocol of the Ministry of Foreign Affairs, Datuk Wan Zaidi Wan Abdullah, the Undersecretary of the Americas division, Wan Aznainizam Yusri Wan Abdul Rashid, as well as the US ambassador to Malaysia, Brian McFeeters, were all there to extend their greetings.
Kuala Lumpur is the second destination of Blinken's three-country tour of South-east Asia. Prior to landing in Malaysia, he spent the previous day in the Indonesian city of Jakarta. He is due to continue his journey to Bangkok, Thailand, according to his itinerary.
Selamat datang ke Malaysia 🇲🇾 US Secretary of State @SecBlinken. We had a fruitful discussion on strengthening 🇲🇾 & 🇺🇸 bilateral engagements & cooperation on various issues ranging from the digital economy to humanitarian assistance and #COVID19. pic.twitter.com/d235Nd1Anl

— Saifuddin Abdullah 🇲🇾 (@saifuddinabd) December 15, 2021
Blinken will participate in a bilateral discussion with Malaysian Foreign Minister Datuk Saifuddin Abdullah in Putrajaya before meeting with Prime Minister Datuk Seri Ismail Sabri Yaakob in the Parliament building, according to his schedule.
Blinken's visit is considered as crucial in the context of the United States' efforts to increase its engagement with South-east Asia and its position in the Indo-Pacific.
Related Posts
According to Wisma Putra, the visit would give a good chance for Malaysia and the United States to further enhance their diverse collaboration as well as explore new joint ventures and partnerships.
Following the independence of Malaysia from Britain in 1957, the United States established diplomatic relations with the country.
Good to meet with Malaysian Foreign Minister @SaifuddinABD. We discussed Burma, challenges to democracy and human rights, the U.S. commitment to peace and stability in the South China Sea, our support for Malaysia's leadership in the region, and expanding our relationship. pic.twitter.com/Ti6iuMIQ9Z

— Secretary Antony Blinken (@SecBlinken) December 15, 2021
In April 2014, the United States and Malaysia raised their bilateral ties to the level of Comprehensive Partnership.
Prior to this, a number of famous US state secretary have visited Malaysia, the most recent of which was Mike Pompeo in August 2018, followed by Rex Tillerson in 2017 then Hillary Rodham Clinton in 2010 and Condoleezza Rice in 2006.