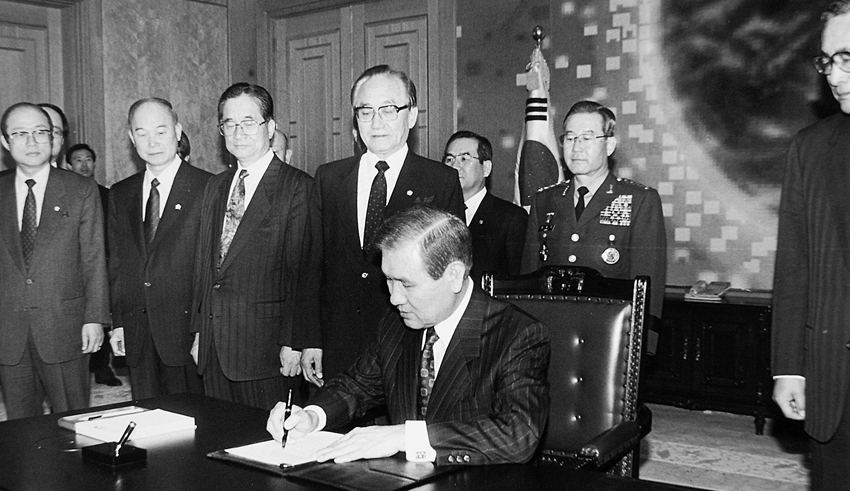 South Korean President Yoon Suk-yeol stated in a newspaper interview that South Korea and the United States are exploring possible cooperative planning and exercises involving US nuclear assets in response to North Korea's rising nuclear and missile threats.
Yoon was reported in the Chosun Ilbo as saying that the combined planning and drills would be geared toward a more effective implementation of the United States' "extended deterrence."
This term refers to the capacity of the United States military, namely its nuclear forces, to prevent assaults against its allies.
"The nuclear weapons belong to the United States, but planning, information sharing, exercises, and training should be handled jointly by South Korea and the United States," Yoon said, adding that Washington is "very optimistic" about the proposal.
Yoon's comments come one day after North Korean state media reported that its leader Kim Jong Un called for the development of new intercontinental ballistic missiles (ICBMs) and a "exponential increase" in the country's nuclear arsenal to counter US-led threats amid escalating tensions between the two Koreas.
Keep Reading
The North's drive to expand its nuclear and missile programs has reignited debate over South Korea's own nuclear weapons, but Yoon stated that preserving the Treaty on the Non-Proliferation of Nuclear Weapons remained crucial.
Last week, at a meeting of the governing Workers' Party, Kim stated that South Korea is now the North's "undeniable enemy" and outlined new military objectives, alluding to another year of intense weapons testing and conflict.
Since Yoon took office in May, inter-Korean relations have become much more strained than they were before his election.
North Korea launched a short-range ballistic missile off its east coast on New Year's Day, in a rare late-night weapons test, after launching three ballistic missiles on Saturday, capping a year with a record number of missile tests.
Yoon's remarks regarding the nuclear exercises are the most recent example of his uncompromising stance towards North Korea. Following last week's incursion of North Korean drones into the South, he encouraged the military to prepare for a "overwhelming" conflict.
According to analysts, hostilities could intensify.
"This year could be a year of crisis, with military tension on the Korean peninsula surpassing what it was in 2017," said Hong Min, a senior researcher at the Korea Institute for National Unification, referring to the "fire and fury" days of the Trump administration.
"North Korea's tough stance…and aggressive weapons development when met with South Korea-US joint drills and proportional response might heighten tensions in an instant, and we cannot rule out what resembles a regional confrontation if both sides misjudge the situation," added Hong.