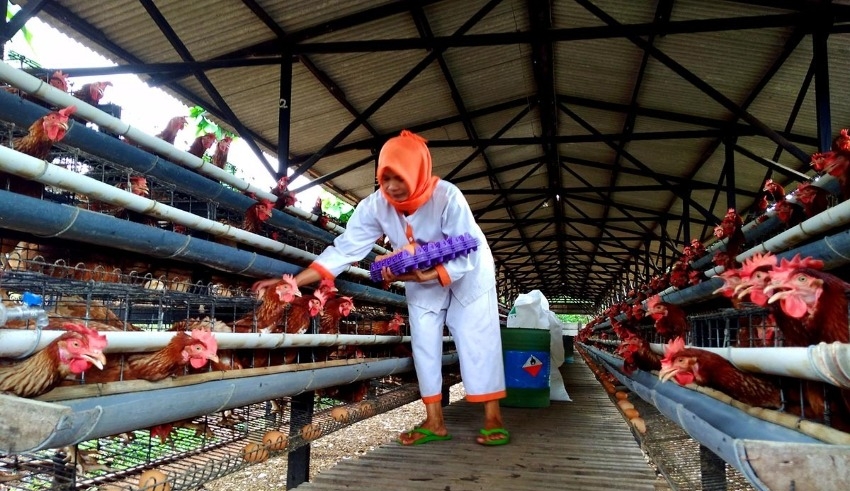 INDONESIA: Fifty tons of frozen chicken from Indonesia arrived in Singapore on Wednesday (Jul 13).
Indonesian enterprises will now be able to export chicken to Singapore for the first time under a new arrangement.
According to Charoen Pokphand Indonesia (CPI), the Thai food conglomerate's unit in Indonesia, it has signed a contract with an importer in Singapore for the supply of 1,000 tonnes of chicken meat.
President of the CPI, Hadi Gunawan Tjoe, hopes that Indonesia's chicken export to Singapore would continue to develop for years to come, said at a ceremony to honor the occasion.
It is our goal that Indonesia's poultry industry would be boosted by this first cargo to Singapore, which will open the door for Indonesian poultry products to enter the global market.
At the same time, Indonesian Agriculture Minister Syahrul Yasin Limpo said: "Singapore imports food that is of the highest quality. I'm crossing my fingers that this shipment will inspire other countries to buy Indonesian food."
The minister also told reporters that President Joko Widodo has placed Indonesia's domestic needs and national food security above anything else in his administration's priorities.
According to him, the current glut of chicken allows the country to sell its chicken goods to other countries.
So that we can keep enjoying such surpluses, meet worldwide demand for chicken products, and still maintain our food security and price stability locally while still increasing production, this will encourage farmers to increase their output.
Other than Singapore, CPI has shipped chicken and poultry products to Japan, Timor-Leste, Papua Guinea, and Qatar, among other countries.
Indonesian companies have been granted authorisation to import chicken meat and chicken meat products into Singapore, says the Singapore Food Agency (SFA).
Charoen Pokphand has two Indonesian subsidiaries, while Indonesian frozen food behemoth Japfa Comfeed has a third.
The other two companies have not yet announced when they would begin shipping their goods to Singapore.
Related Posts
At least 12 other companies in Indonesia are attempting to get a license to export chicken goods to Singapore, according to Indonesia's Agriculture Ministry earlier this week. SFA has received all applications.
Before being allowed to export food to Singapore, individual establishments and farms must be reviewed and certified by the SFA, who conduct thorough documented reviews and on-site checks to verify their legitimacy.
More than one-third of Singapore's chicken meat imports came from Malaysia in 2013.
Due to domestic supply and pricing difficulties, Malaysia has banned the export of up to 3.6 million chickens per month. Some chicken sellers had been selling whole chickens above the price ceiling in order to recoup their costs.
Following the prohibition on exports, Singapore declared that it will purchase chickens from Indonesia and Thailand, among other countries, as a result.
As of June 30, the SFA now imports chilled, frozen, and processed chicken products from Indonesia.
With the deal to export 1,000 tons of chicken valued between 30 billion and 40 billion rupiah, CPI's president director Thomas Effendi remarked.
"More than 1,000 tons of commitments are on the way… Despite our best efforts, we still want to expand our market share. This number is expected to climb in the future. We don't know exactly how big it will be, but Singapore is a significant market," he stated.
More hens will be sent in the near future, according to CPI, which is currently in talks with a second Singapore company.
According to Mr Effendi, CPI plans to sell live birds to Singapore in the near future as well.
"Due to our farm in Batam, we are able to ship live chickens overseas to customers. In order to export live hens, our company is looking for ways to obtain certification," he stated.