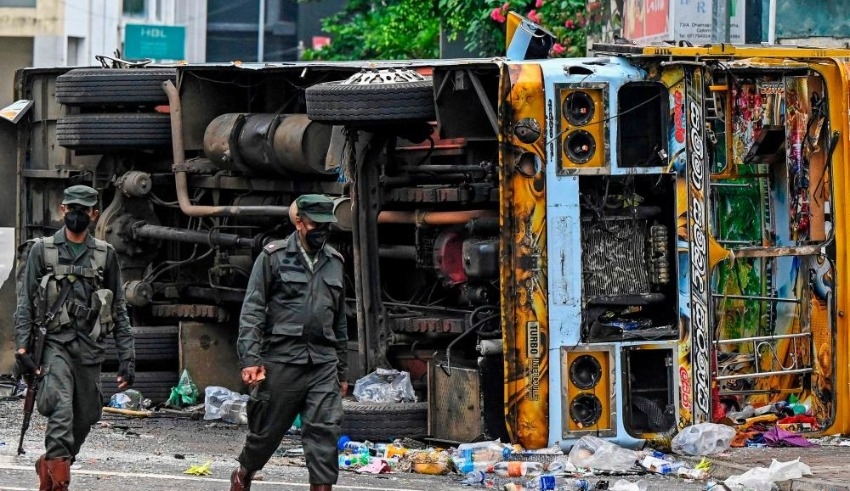 SRI LANKA: President Gotabaya Rajapaksa appears to have finally succumbed to Sri Lanka's economic problems.
Protesters attacked the president's official residence and set fire to the prime minister's house in Colombo on Saturday, and parliamentary speaker Mahinda Rajapaksa stated on Saturday that Rajapaksa will stand down on Wednesday (July 13).
Opposition protests have long called for the resignation of Rajapaksa, but the former military officer has repeatedly used emergency powers in an effort to keep control over Sri Lankan affairs.
In the midst of negotiations with the International Monetary Fund (IMF) and recommendations to restructure its sovereign debt, the island nation of 22 million people is experiencing violence and political upheaval.
Slashed public spending and a lack of tradable goods and services have been blamed on economic mismanagement by successive governments, according to some analysts.
The Rajapaksa government's immediate tax cuts in 2019 only served to exacerbate the problem. Pandemic COVID-19 struck months later.
There was a significant loss of money from the profitable tourism business and remittances from residents working abroad, which were further depleted by an inflexible foreign currency exchange rate in Sri Lanka at the time.
From 2020 onwards, Sri Lanka's credit ratings were reduced by rating agencies due to concerns about the government's finances and the country's incapacity to repay massive foreign debts.
The government relied largely on its foreign exchange reserves to keep the economy afloat, depleting them by over 70% in just two years.
Sri Lanka, which was once hailed as a role model for developing economies, has been devastated by the crisis. There have been long lines at filling stations and power outages as a result of the fuel shortages, as well as a dearth of medicine in the hospitals.
Related Posts
The central bank has warned that inflation is out of control and could reach 70% in the near future.
Although the economy was rapidly deteriorating, the Rajapaksa government originally delayed talks with the International Monetary Fund (IMF).
Government officials were pushed to act by the opposition and several financial experts for months, but the government stood its ground anticipating that tourists and remittances would rebound.
Government eventually sought support from countries such as China, India and Japan, who have always competed for dominance over the strategically important island.
Loans of billions of dollars have been granted by India to cover the costs of essential supplies. In total, New Delhi claims to have supplied assistance worth more than US$3.5 billion this year. New Delhi asserts this.
China has been less vocal in its support for the island nation's efforts to restructure its debt, although it has stated its support.
Rajapaksa had previously urged China to renegotiate repayments on about US$3.5 billion of debt owing to Beijing, which in late 2021 had also supplied Sri Lanka with a US$1.5 billion yuan-denominated swap.
Finally, the IMF agreed to meet with Sri Lanka.
Sri Lanka's post-independence history has never seen a sitting president being overthrown by mass protests.
Even more political and economic uncertainty would be brought on, however, by Rajapaksa's resignation.
According to Sri Lanka's constitution, when a president steps down, the prime minister would inherit his or her responsibilities. Ranil Wickremesinghe, the incumbent, has also stated he will step down.
Speaker Mahinda Yapa Abeywardena stated in a statement on Monday that Sri Lanka's parliament will elect a new president on July 20.
An all-party government must be put in place in conformity with the Constitution, according to the statement from the party leaders' meeting held today.
It has been reported that the prime minister and his Cabinet are willing to quit in order for an all-party administration to be put in place by the ruling party.