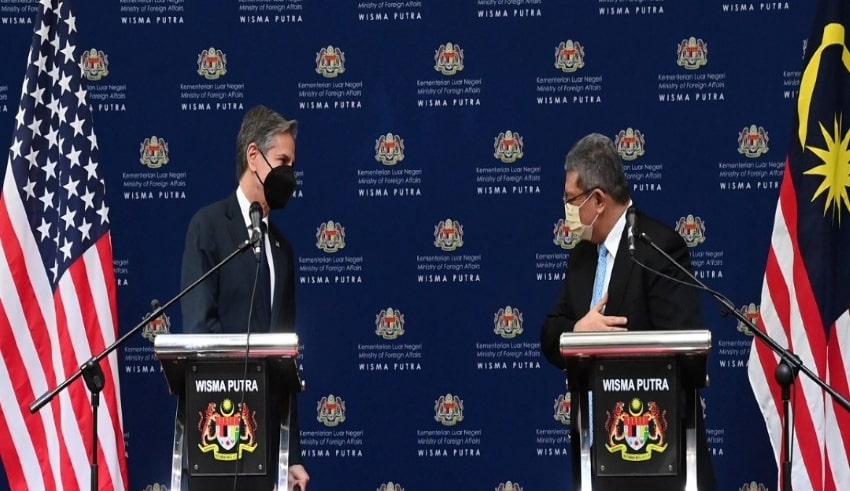 (C) saifuddinabd /Twitter
Malaysia – US Secretary of State Antony J Blinken and Malaysian Foreign Minister Datuk Saifuddin Abdullah spoke candidly and productively as part of the senior US official's first visit to Malaysia.
"Our conversations covered a wide range of topics, and our bilateral connections have been robust," Saifuddin said during a meeting with hearing-impaired singer Jeshurun Vincent, who has been to 102 countries and contributed to cultural diplomacy.
Blinken landed in Kuala Lumpur last night for a two-day business visit as part of a South-east Asia visit. He had already made a stop in Jakarta, Indonesia, and will now continue on to Bangkok, Thailand.
Saifuddin said during his welcome comments at the bilateral meeting with Blinken that the Malaysia-US Comprehensive Partnership has never been stronger and that it would only continue to become deeper and more diversified.
Selamat datang ke Malaysia 🇲🇾 US Secretary of State @SecBlinken. We had a fruitful discussion on strengthening 🇲🇾 & 🇺🇸 bilateral engagements & cooperation on various issues ranging from the digital economy to humanitarian assistance and #COVID19. pic.twitter.com/d235Nd1Anl

— Saifuddin Abdullah 🇲🇾 (@saifuddinabd) December 15, 2021
Saifuddin discussed with Blinken ways to deepen comprehensive collaboration in areas such as commerce and investment, digital economy, cyber security, defense, and health, as well as people-to-people relations.
Both leaders also agreed to restart the Malaysia-US Senior Officials' Dialogue, which provides a forum for senior officials from both countries to debate and share perspectives on mutually important matters.
Related Posts
As a critical Asean partner in growing the region's digital economy, he urged the US to seriously explore investing in the formation of high-valued start-ups and other MyDigital projects.
On cyber security, Saifuddin used the occasion to solicit US cooperation and support in establishing a Malaysian Information Sharing and Analysis Center (ISAC) comparable to those already created in the US.
Both presidents also discussed the issues posed by the Covid-19 outbreak and the equal worldwide availability to immunizations.
Saifuddin conveyed to Biden that Malaysia valued the United States' position and support for Asean Centrality, and enthusiastically welcomed the United States' active involvement in Asean.
The United States is a critical partner in implementing the Asean Outlook on the Indo-Pacific (AOIP).