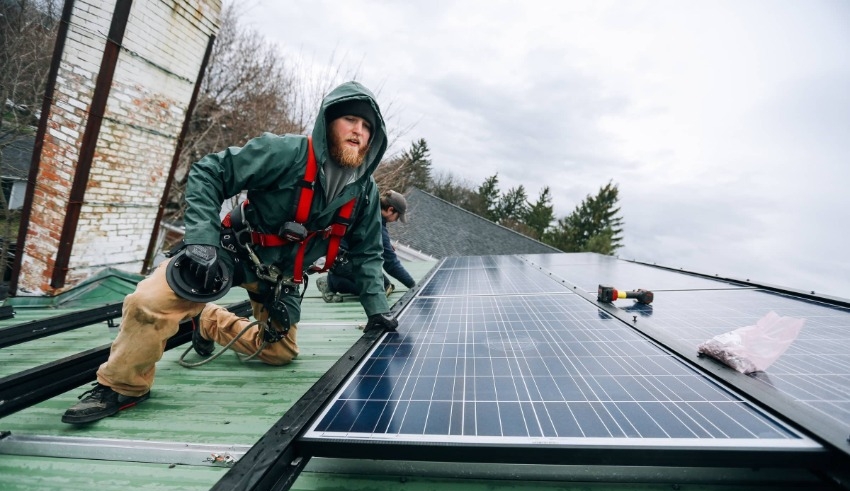 Since the year 2020, the COVID-19 epidemic has had a negative impact on the economy of Indonesia. This crisis, which has also struck a great number of other countries, is a result of the large halt of economic operations due to restrictions that are intended to lower the number of COVID-19 cases.
The most populous and robust economy in Southeast Asia Through its National Economic Recovery program, Indonesia is currently working to assist its economy in recovering to the levels it was at before the pandemic, or even higher.
Unfortunately, this recovery program is significantly reliant on the use of fossil fuels in order to satisfy the country's requirements for energy. This is something that needs to change, as the economic recovery should be in line with Indonesia's climate pledge, which is to attain net-zero emissions by the year 2060.
Already, Indonesia is one of the top ten countries in the world in terms of the amount of greenhouse gasses it emits. It's possible that Indonesia's COVID-19 recovery program could end up causing more issues if significant measures aren't taken to cut back on the usage of fossil fuels and ramp up the country's potential for renewable and greener forms of energy.
The monies that have been allotted, which amount to around 8 percent of the entire budget for the National Economic Recovery, are a reflection of the fact that Indonesia endorses the utilization of fossil fuels.
The energy sector is supported by the economic recovery program through the implementation of fifteen different strategic measures. It is more likely that the business that deals in fossil fuels will benefit from the majority of these initiatives than the industry that deals in new and renewable forms of energy.
The most significant amount of funding that was allotted to the energy sector was 95.3 trillion rupiah (US$6.4 billion). This funding was given to state-owned enterprises linked to fossil fuel energy to support their businesses. These state-owned enterprises include oil and gas company Pertamina, power firm PLN, airline company Garuda Indonesia, and train operator KAI.
Related Posts
In addition, 13.1 trillion rupiah is distributed as a subsidy for the provision of power to low-income households, which is mostly produced by the combustion of coal.
The Indonesian government continued its practice of providing annual subsidies of 97.3 trillion rupiah for several forms of fossil fuels in the year 2020. These subsidies included payments for gasoline, liquefied petroleum gas (LPG), and electricity.
The National Economic Recovery program, on the other hand, only included a subsidy for one kind of renewable energy, biodiesel.
In the meantime, support for various other forms of new and renewable energy is mentioned, but there is no specific information provided regarding the distribution of funds or programs. For instance, the recovery program has stated that it is in favor of providing financial incentives to individual consumers who choose to install solar panels on their rooftops. On the other hand, it is not obvious how this support will be implemented.
Policies that encourage the use of fossil fuels are one quick method to get the economy moving again. However, in the medium to long term, this may have a negative impact on both the sustainability of the Earth's economy and Indonesia's economy.
One recent illustration of this phenomenon is the rise in global oil prices, which recently topped $100 per barrel as a direct result of Russia's invasion of Ukraine. As a result of this increase, the Indonesian government has been hesitant about allocating cash for subsidies on gasoline and LPG. As a direct result of the jump in the price of oil, the prices of several other goods and services have also soared.
Especially in metropolitan areas, the correlation between increased industrial activities and poor air quality has been shown. Recently, the air quality monitoring organization IQAir, which is based in Switzerland, recorded Jakarta as having the most contaminated air in the entire globe.
Longtime obstacles to the development of renewable energy sources in Indonesia include the country's heavy reliance on fossil fuels. Before the COVID-19 crisis, more than ninety percent of Indonesia's total energy demand was met by fossil fuels, with coal consumption increasing at a rate that was far higher than that of any other energy source.
If this pattern continues, Indonesia will have a much harder time meeting its aim of having net-zero emissions by the year 2060.
The government of Indonesia needs to reevaluate its energy strategy transition in order to meet both its goal of reaching net-zero emissions and its goal of achieving economic recovery on a national scale.
In addition to this, the government needs to make use of technology that is friendly to the environment as well as numerous new and renewable sources of energy.
It is imperative that the government take use of eco-friendly technology and forms of renewable energy that have the potential to foster sustainable growth.
The technology of carbon capture and storage might be put to use in the manufacturing sector to store subterranean reservoirs of carbon dioxide at a cost that is comparatively low. For the industrial sector, which deals with highly concentrated streams of carbon dioxide, the price of implementing this technology is rather low.
It is possible that, in the short- to medium-term, companies with high energy demands may be able to continue operating on fossil fuels while leaving a smaller carbon footprint if this technology is implemented. As a consequence of this, carbon capture and storage may be able to assist in reducing the amount of pressure placed on the expansion of renewable energy sources by heavy industries during the initial phase of the energy transition.
In addition, the government needs to give support for sustainable energy sources that can be relied upon and are affordable. There are many different types of clean energy, including geothermal, hydro, and nuclear. In addition, Indonesia possesses a significant amount of geothermal and hydro energy resources, which are both abundant and inexpensive. While the initial capital expenditures for nuclear power facilities are somewhat substantial, the ongoing operating costs for these units are surprisingly low.
In addition, Indonesia's abundant sunshine and the falling price of solar panels are the primary reasons behind the country's growing use of solar energy, which is used mostly to meet the need for electricity in residential and commercial structures.
Last but not least, in order to provide a reliable supply of renewable energy, Indonesia should develop energy storage technology such as batteries, pumped storage hydro power, and hydrogen.
The government may choose to execute the aforementioned recommendations in stages while simultaneously taking strategic actions concerning financing and supporting policies. In this situation, the government ought to raise the amount of subsidies it provides for the renewable energy sector in order to support the growth of the market for cleaner energy in both society and industry.
The necessary cash can be generated by the government by reducing the existing high levels of subsidies for fossil fuels and establishing a carbon tax, particularly for industries with large levels of carbon emissions.
Additionally, because it is presently holding the presidency of the G20, Indonesia is in a strategic position to entice domestic and international stakeholders to invest in the low-carbon technology and renewable sector of Indonesia's economy.