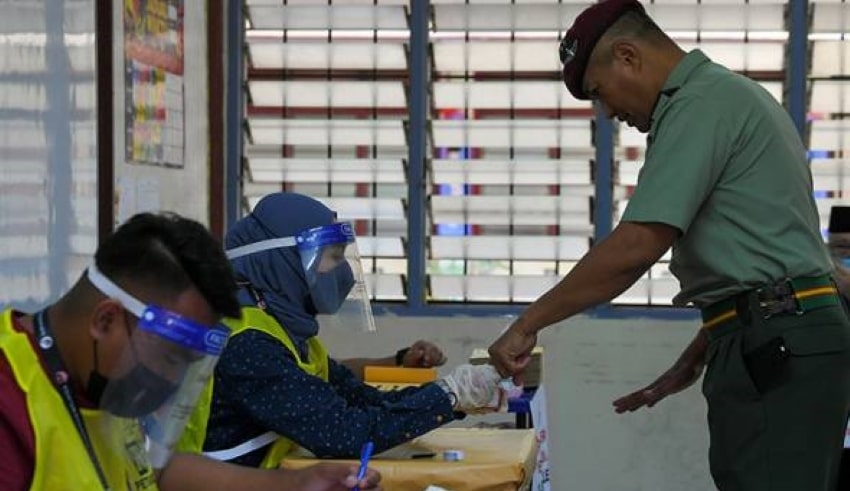 Malaysia – According to the Election Commission (EC), the Melaka state election saw an early voter participation of 89.9%.
In a statement, the secretary of Election Commission, Datuk Ikmalrudin Ishak, has revealed that about 10,390 voters were involved and participated in the polls, this figure includes the members of the military services together with their families, as well as police officers.
He also added that the EC applauded all election officials and their teams and departments on a job well done during the polls while congratulating the Royal Malaysia Police, Malaysian Armed Forces, Ministry of Health, National Security Council, and local authorities involved.
He wento on to express gratitude toward the media and the other parties which are directly or indirectly engaged, he thanked them for their efforts such as their collaboration and assistance provided to the Election Commission.
The voting process began early in the morning at 8 a.m. at 31 early voting centers (PPA), with 21 of the centers closing at 2 p.m. and 10 closing at 5.30 p.m.
While considering that the pandemic is still not fully under control, there was a strong emphasis on diligently observing and adhering to the standard operating procedure (SOP) as outlined in the Covid-19 Prevention Guidelines under the National Recovery Plan.
Related Posts
At the voting centers, participants were required to be physically distanced with each other and that they should wear a face mask. It was also required to use hand sanitizer, check their body temperature, and record their attendance, as well as scan the MySejahtera QR code before entering the early voting centers (PPA).
Melaka is holding a state election after the state legislative assembly was dissolved on October 4 when four assemblymen withdrew their support for Chief Minister Datuk Seri Sulaiman Md Ali. The election will take place on November 20, according to the EC.