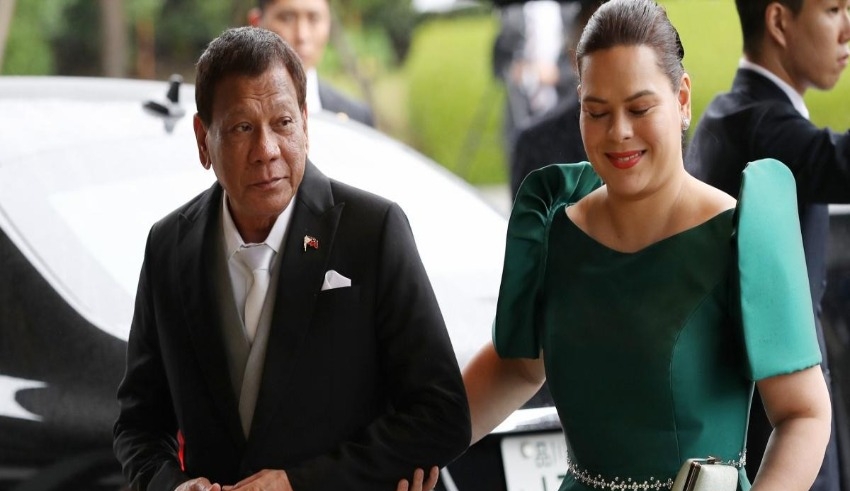 PHILIPPINES: Sara's inauguration was place near significant Davao City monuments, including the city hall, where she served as mayor for three times, the legislative building, and the Davao Cathedral.
By Friday, June 17, preparations in the area were well underway, with most of San Pedro Street and parts of Bolton Street closed to traffic. Between talks with diplomats and supporters, Duterte stepped out of city hall to inspect the inauguration venue.
It was time for Duterte's inauguration after Sunday's Mass at the San Pedro Cathedral. Her former professor, Supreme Court Associate Justice Ramon Paul Hernando, administered her oath. Hernando and his wife, she added, have been her close friends for almost 10 years.
Duterte was accompanied her husband Manases Carpio from the cathedral to San Pedro Square throughout the ceremony.
However, the other two key figures in the event – her father, President Duterte, and president-elect Ferdinand "Bongbong" Marcos Jr. – only attended the San Pedro Square ceremony.
Related Posts
While she isn't the first Duterte in the public spotlight, nor is she the first presidential child to win a vice presidential election, the proximity of the two Dutertes' electoral victories is unprecedented.
Sara, on the other hand, is no stranger to stepping into the shoes of her father. Sara and her father basically traded places when Sara won her first mayoral term in 2010 — Rodrigo Duterte had reached the consecutive term limit, therefore Sara, then the vice mayor, ran and won as mayor.
Duterte focused her 2022 campaign on three issues: economic recovery following the COVID-19 lockdowns, peace and security, and education. Beginning June 30, when she also takes over as Secretary of Education, the latter will take up the majority of her time.
Simultaneously, she has stated that she intends to follow through on an early campaign promise to establish "satellite" offices under the Office of the Vice President across the country. She has yet to reveal the location of such offices.
The two promises – an OVP that would be emulated across the country and an education portfolio – will undoubtedly keep Duterte occupied for the next six years. They'll also have the opportunity to build a large network, which might be useful if the 44-year-old decides to run for president.