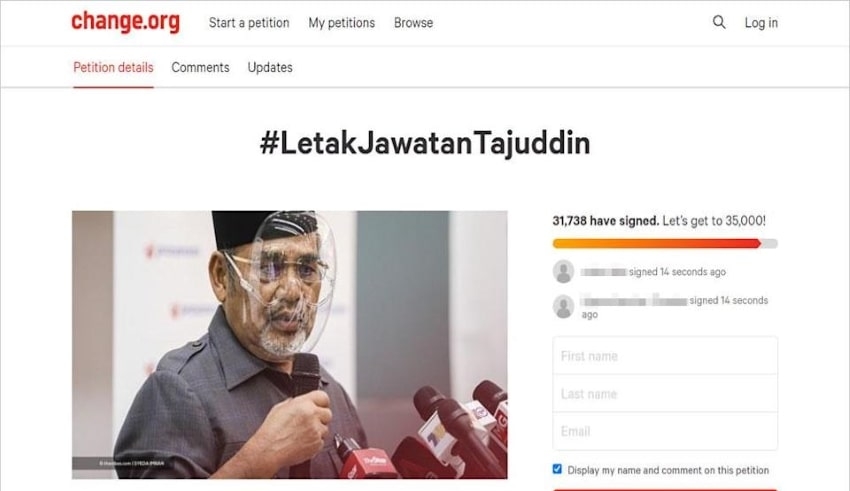 The Finance Minister Datuk Seri Tengku Zafrul Abdul Aziz has sent a formal letter indicating Datuk Seri Tajuddin Abdul Rahman's termination from his post which was confirmed by the latter that he has now received the said termination letter.
According to a report, while talking about his immediate termination, the former Prasarana chairman said that this matter is not actually what is important right now and not something to be concerned about. "I have received the letter already. There's nothing to comment now. It's not a pressing issue or something to worry about," he told reporters.
Related Posts
A Malay language daily newspaper has also verified that the termination letter has been received by Datuk Seri Tajuddin Abdul Rahman. He also commented that he is thinking of providing a full statement regarding this matter at the appropriate time.
"I got the letter. I got it this evening. He sent the letter and I accepted it. I want to say Alhamdulillah and thank you to the minister. "I will make a statement later. To me, this is not a pressing matter," he was quoted as saying. Yesterday, Tajuddin, who is the Prasarana Malaysia Berhad's non-executive chairman got abruptly terminated by the Finance Ministry with the termination to take effect immediately. Tajuddin's termination letter was dated May 26 with Tengku Zafrul as the signatory.
The letter was sent after a government-linked company made a public campaign to overthrow Tajuddin following his press conference held on May 25 where he addressed the LRT collision incident at KLCC where over 200 passengers have gotten injured with 6 passengers in a critical state. The campaign indicated that Tajuddin has dealt with the matter in a terrible manner. In the letter, Tengku Zafrul has informed of Tajuddin's termination as the non-executive chairman of Prasarana Malaysia Berhad (Prasarana) with immediate effect and then expressed his gratitude for his services rendered.