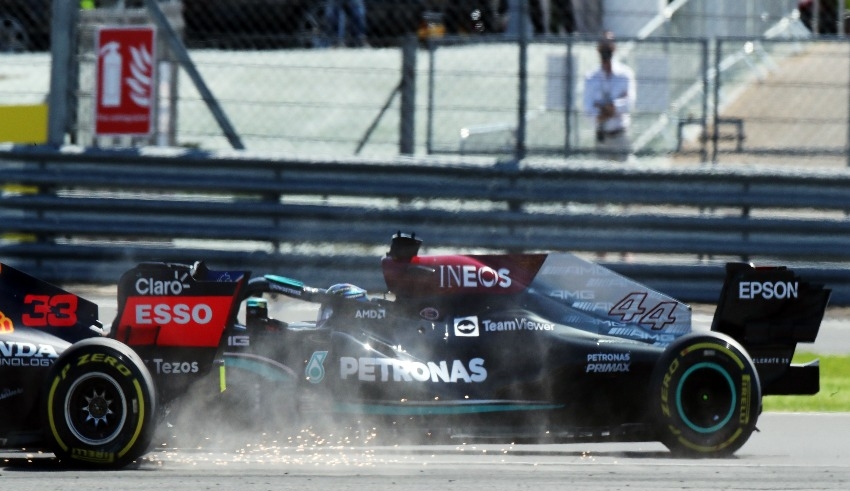 UK: The British Grand Prix was red-flagged on Sunday (Jul 3) after a horrifying opening-corner multi-car accident at Silverstone, with Zhou Guanyu's Alfa Romeo flipping over and flying over the circuit's safety barrier.
Marshals raced to rescue Zhou, who was stranded in his wrecked car, as Max Verstappen overtook polesitter Carlos Sainz at the first corner.
The Mercedes of George Russell, Alpine's Esteban Ocon, Yuki Tsunoda (Alpha Tauri) and Alex Albon's Williams were also participating.
His car was launched into the air and landed on its side in the catch fence, saving the Chinese rookie's head with its roll-hoop-halo as it skidded across the gravel trap and over tyre barriers.
Zhou had to wait until he was rescued from his automobile before he had access to detailed replays of the accident.
He was carried to the circuit medical center by ambulance after he was rescued by emergency evacuation medical crews and placed on a stretcher.
As well as Albon, he was airlifted to Coventry Hospital for additional precautionary measures after being treated at the medical center.
That is, both drivers were aware and being examined out and evaluated by the International Motoring Federation (FIA).
Related Posts
In that part of the track, Formula One vehicles often go at a speed of 240 kph.
Russell, who started ninth, looked to shift to his right after a terrible start and collide with Zhou's Alfa Romeo as the two raced to stay ahead of Pierre Gasly in the reruns of the start. Russell started eighth.
This set off Zhou's crazy detour off-circuit, resulting in many minor crashes with other vehicles.
The FIA also verified that many protestors attempted to run onto the track after the red flag was raised.
The field returned to the pits when Zhou's car collided with another vehicle, and a professional extraction crew assisted him until he was hoisted out of the vehicle.
Following the crash, other vehicles, including Russell, got out of their automobiles to help Zhou.
After the accident, the teams involved were all working feverishly to fix their damaged vehicles in order to restart the race.
Alfa Romeo stated on the radio: "No fractures have been found in Zhou's body. Given the circumstances, his performance is rather commendable."
In previous collisions, the "halo" device saved the life of another driver who was in danger of death or serious harm. After Dennis Hauger's automobile slammed into Roy Nissany's cockpit, the halo rescued him from certain death. Both walked away unscathed.
After a nearly one-hour delay, the race was restarted in the original starting order, with Zhou, Albon, and Russell retiring from the field.
Verstappen was able to get the better of Sainz at the first corner, allowing the Spaniard to take his first ever F1 victory in his 150th race after collecting his first ever pole position.