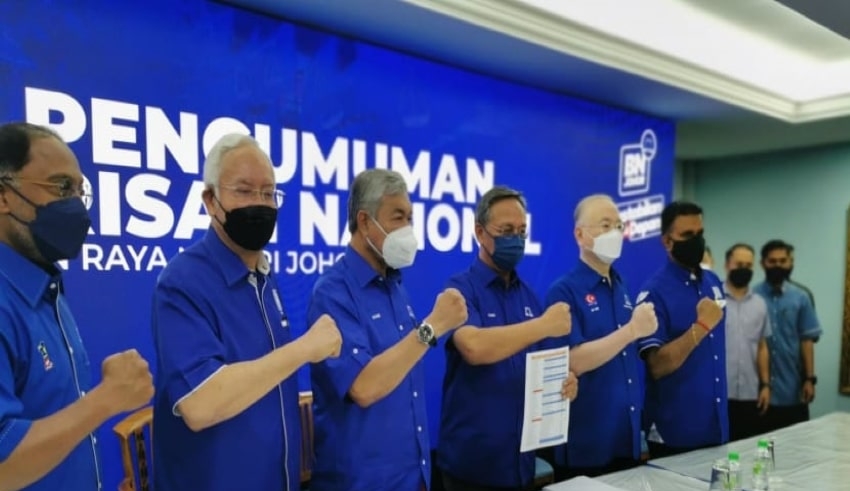 Malaysia – The main coalitions of Barisan Nasional (BN) and Perikatan Nasional (PN) will contest head-to-head in all 56 seats in the March 12 Johor state election, while the numerous federal Opposition parties compete with one another in multiple seat tussles.
According to the candidate lists provided by both coalitions, there will be fierce competition in numerous places, with multiple renowned candidates running for the same seats.
In the run-up to the Johor state election, BN and its lynchpin party Umno are at odds with PN, with leaders from both coalitions trading barbs in recent weeks after the loss of support from MPs that prompted the shift in federal government last year.
The seat of Benut, which is being contested by incumbent Datuk Hasni Mohammad, who is also the Johor Mentri Besar, in a likely four-cornered struggle with PN, PKR, and Parti Pejuang Tanah Air (Pejuang), is one to keep an eye on.
Hasni is the Johor Umno chairman and a two-term Benut assemblyman since 2008.
In the most recent state election, he won the seat with a 4,447-vote advantage over his nearest PKR competitor.
Related Posts
In the upcoming state election, he will face Datuk Isa Abdul Hamid of Parti Pribumi Bersatu Malaysia, who is already a senator in the Dewan Negara.
Another seat to keep an eye on is the Machap seat in the Simpang Renggam parliamentary constituency, which will be contested by Datuk Onn Hafiz Ghazi of Umno.
Onn Hafiz, the grandson of late Umno founder and president Datuk Onn Jaafar, would be moving from his current seat of Layang-Layang to Machap in the same parliamentary district.
In a likely four-cornered struggle, he would face PN's Azlisham Azahar and Malaysia's United Democratic Alliance (Muda).
In addition to Machap, the Rengit seat in the Batu Pahat parliamentary constituency will witness a four-cornered contest between the BN, PN, and maybe Pejuang.
Datuk Mohd Puad Zarkashi, an Umno supreme council member, will compete for the seat alongside PN's Mohammad Huzair Lajis and Pejuang's Nizam Bashir Abdul Kariem, a well-known constitutional lawyer who surprised many with his candidacy declaration.
Former Special Affairs Department (Jasa) head Mohd Puad was previously eliminated as a candidate in the last general election and has since retaliated against Umno's leadership.
Former Johor mentri besar Datuk Dr Sahruddin Jamal of the People's Party is also a contender to watch out for, as he prepares to defend his Bukit Kepong seat against BN's Ismail Mohamad in a probable four-cornered battle.
Dr Sahruddin will face Muda co-founder Nurafiqah M. Zulkifli and Pejuang's Md Taib Md Suhut, in addition to BN.
Dr. Sahruddin, a physician, previously won the seat with a 1,273-vote majority.
The Election Commission has slated election day for March 12 with early voting beginning on March 8.