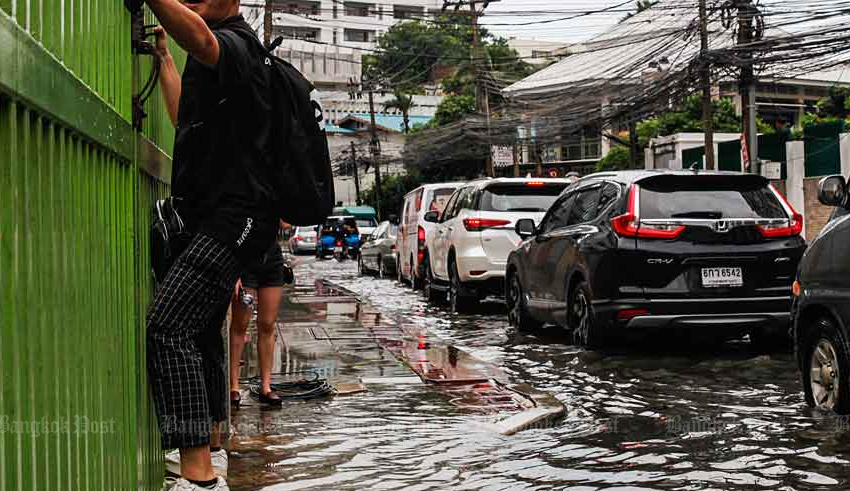 The National Water Command Centre (NWCC) predicts that normalcy will be restored to the Central area of Thailand by mid-November, since runoffs will soon begin to subside.
Surasee Kittimonthon, secretary-general of the National Water Resources Office and deputy director of the NWCC, stated on Sunday that this forecast was based on the recent rainfall and water released from large upstream dams.
He stated that NWCC was coordinating with appropriate agencies and employing all available instruments, methods, and measures to expedite efforts to return flooded provinces to normalcy.
Surasee continued by stating that the NWCC has been monitoring precipitation in the North, Central, and Northeast regions and expects the wet season will soon end and the dry season will begin.
He noted that the Chao Phraya and Ubolrat dams are also reducing water release, so floods in regions downstream should begin to subside shortly.
Surasee noted that Thailand had received approximately 295 millimeters of precipitation between January 1 and October 20, which is approximately 21 percent over average and 17 percent above the same period last year.
However, he stated that the average rainfall was still less than in 2011, when Thailand was devastated by catastrophic flooding. At least three more weeks of flooding are expected in Central Thailand, according to NWCC.
Keep Reading
This year, the NWCC recorded 3,105 cubic meters per second of water flowing through the C2 water station in the Muang district of Nakhon Sawan, while 3,704 cubic meters per second of water flowed into the Chao Phraya Dam.
The NWCC is required to ensure that the level of the Chao Phraya Dam does not exceed 17,50 meters above the mean sea level, but this year it reached 17,74 meters. Therefore, NWCC was required to increase the water discharge rate to 3,180 cubic meters per second.
Surasee stated that downstream regions were ultimately inundated since they can only handle runoffs of 2,500 cubic meters per second.
The increased discharge caused the Chao Phraya River and its tributary the Noi River to overflow and inundate low-lying areas.
The NWCC expects the Chao Phraya Dam to cut its discharge rate to 1,200 cubic meters per second on November 20 and to 700 cubic meters per second six days later, as the situation has begun to improve.
He noted that floodwaters from the provinces of Chai Nat, Singburi, Ang Thong, and Ayutthaya were rushing toward the Noi River and then the Thung Phak Hai and Thung Pa Mok water-retention fields.
The water level at the M7 station in the province of Ubon Ratchathani in the Northeast should begin falling on November 2 and return to normal within 14 days.
According to satellite images, 8.7 million rai of land were flooded between October 1 and October 20. He stated that the government has budgeted 6 billion baht to compensate 2 million flood-affected families with 3,000 baht each.
He noted that compensation for damaged crops has not yet been assessed and appraised.